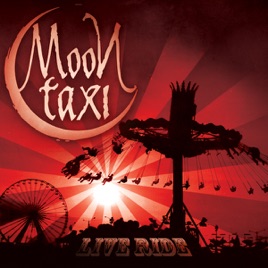 14 Songs, 1 Hour 14 Minutes
Released:

Feb 10, 2009

℗ 2009 Moon Taxi
Ratings and Reviews
Has been one of my top 10 cds since I first got my hands on it.
It's a real shock to me that with the amount of energy that Moon Taxi injects into the crowds of the packed bars and fields all across the southwest and beyond that they have not exploded into the jam world faster than they already have. Live ride is a beautifully performed and recorded live CD that perfectly captures the raw enthusiasm of the musicians and their fans. I keep a constant watch on their tour schedule to see when they're next coming back to Bowling Green, and use this CD to keep the spirit alive in me until they can make it back this way.
Revolutionary is the word.
The band Moon Taxi has created for themselves a swiftly burgeoning cult retinue, shrewdly leveraging their raw talent and meticulous musicianship against an industry that regularly snubs independent schemes. The Nashville-based rock quintet fights the current of their surroundings by refusing all labels, genres, and pigeonholes alike, and instead thrives on versatility and prides themselves with their ability to win over any type of audience with their universal themes and broad variation of influences. Moon Taxi's debut album "Melodica" set the band up for success, but their true victories have transpired on the road: they tour the Southeast relentlessly and with a rare, inexhaustible enthusiasm. So what better way to record a sophomore album than with Moon Taxi's infamous live show? "Live Ride" is a compilation of new and old, though the six pre-recorded tracks are much improved from the studio album. "Here to Stay" now boasts a blistering, jazzy keys solo; "Funky Respiration" features a sweltering new jam, and "Gibson" is tighter and groovier than ever. Other focus tracks include the dynamic single, "Common Ground," the smoldering, complex "Skipping Stones," "Morningtime," another amped-up "Melodica" favorite, and radio-worthy rock anthem "Anchors." These boys have discovered a way to translate their individual advanced knowledge of music into a multitude of collective sounds, from bright harmonica notes to rumbling bass lines, screaming guitar solos and brazen organ tones, all driven by precise and intricate drum beats and cymbal crashes. Overall, one might say Moon Taxi is reminiscent of Allman Brothers meets Phish and Rage Against the Machine, but their live show is like no other, and "Live Ride" has embodied it flawlessly. Moon Taxi is undoubtedly a band for which one must keep an eye on the horizon, but until then, turn those funky tunes up, y'all.
A Reason to Celebrate
Moin Taxi has spent the last 3 years or so touring and recording vigorously in an attempt to expand their rock solid hometown fanbase that loyally attends every show and dances to every tune. Tour stops at 10,000 lakes and Summer Camp were the highlights of 2008, which was capped off the with recording LIVE RIDE in August at a Nashville bar, 12th and Porter. The atmosphere and the energy are both captured on this disc as Moon Taxi gives listeners a glimpse into what it is like to attend one of their frenetic shows. The songwriting is sophisticated and structured on RIDE, but not at the expense of the looseness. Frontman Trevor Terndrup is equally adept at clean story telling vocals as the Chris Robinson-esque bluesman yell. Moon Taxi can only keep climbing the Jam band ladder if they continue efforts like LIVE RIDE.