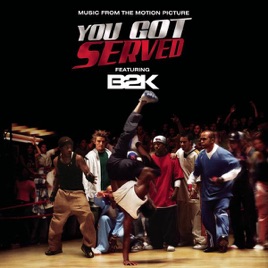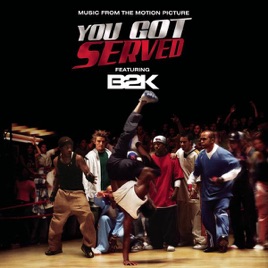 You Got Served (Music from the Motion Picture)
B2K
TITLE
TIME

Do That Thing (feat. Lil' Kim)

B2K featuring Lil' Kim

Smellz Like a Party (feat. Rufus Blaq)

B2K featuring Rufus Blaq

Can I Get It Back (feat. Red Café)

B2K featuring Red Café

Ante Up (Robbin Hoodz Theory)

M.O.P.
13 Songs, 48 Minutes
Released:

Dec 23, 2003

℗ 2000 Loud Records, LLC, 2003 Sony Music Entertainment Inc.
Ratings and Reviews
what the heck
y dont u have "drop" come on its the best song in the movie get IT plz
Seriously guys...
How could you not include the song "Drop"? Not only is it the best song in the movie but it's also from one of the most memorable scenes from the film. Leaving it out is like leaving "Unchained Melody" off of the Ghost soundtrack. At least offer the song seperately. (sigh)

What happen to "Drop"
How do you place a soundtrack in your file without the song that made everyone see the movie. The fact that you don't have "Drop" which by itself would have cleaned up in sells, show that you missed the whole pulse of You Got Served. What a disappointment. If you don't have the cut on this track you could at lease have Indecent Proposal-Timbaland & Magoo in your library, so I could download Drop from that track.