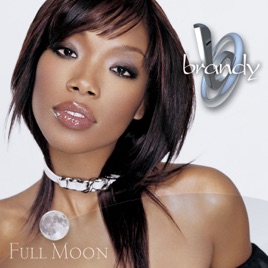 | | TITLE | | TIME |
| --- | --- | --- | --- |
| | | | |
| | | | |
| | | | |
| | | | |
| | | | |
| | | | |
| | | | |
| | | | |
| | | | |
| | | | |
| | | | |
| | | | |
| | | | |
| | | | |
| | Love Wouldn't Count Me Out | | |
| | | | |
| | | | |
17 Songs, 1 Hour 12 Minutes
Released:

Feb 25, 2002

℗ 2002 Atlantic Recording Corporation for the United States and WEA International Inc. for the world outside of the United States
Ratings and Reviews
Read this review it's worth the time!
Ok so this is by far the hottest R&B Album to ever be released. First off it's of decent length and to boot every song is really good and they all blend well together it's truly a Masterpiece. Let's do a song breakdown:

1) B Rocka Intro: "B.R.A.N.D. n' Y." now as far as intros go this is pretty good not to mention it sets up the industrial sound that is used throughout the album. Every once in a while I'll find myself singing the "What about all of the…" from it

2) Full Moon: A hot track just talking about someone your really into, so much so that your not gonna waste time playing games you just want to be straight up and tell 'em how you feel. The beat is hot and just gets you in the mood to club which leads right to…

3) …I Thought: The best up-beat song on the Album it has an awesome beat and a splash of sarcasm thrown in about a bad relationship where she claims a positive about her ex and then the chorus throws in "no you didn't". If you want some throw down music from Brandy get this track

4) When You Touch Me: This is the best song to get in the mood (right along side MH's Naked) this just makes you want to hop into bed with the one you love. She sounds really sensual in this song

5) Like this: This is the only song that took a while to grow on me but now sometimes I just want to listen to this track. It's brandy taking control of her lover in bed and telling him how to touch her it's definitely something we all can relate to (if your of age)

6) All in Me: this is such a catchy song and it sometimes lifts me up on days I need it. The part where it breaks down is particularly infectious. She has just the right amount of swagger in her voice

7) Apart: This is a song for when you got out of a bad relationship and you need to feel better and reaffirm you made the right decision. The vocal direction in this song is outstanding she has a lot of conviction in what she says

8) Can we?: this song is similar to I thought in that it has an industrial sound (as does What about us?) it's nearly as catchy as I thought and is more about working things out and not wanting to let go of a relationship. Really a very good song

9) What About us?: the lead single and best known song off the album and rightfully so it's a really radio friendly song. The best part is when she is talking about how she controls the game and that he is counterfeit my only regret is that she didn't say bullS#!T but instead says Bullish.

10) Anybody: This song is really good but is kind of confusing it kind of seems at times she is trying to hide a relationship from the press and at other times it seems she is trying to hide a relationship that is bad for her and here friends wouldn't want her in.

11) Nothing: this is a song showing everyone's need for a significant other and saying she is nothing without them. This is the first of a batch of slow songs towards the end of the album. Her voice is so perfectly tender

12) It's not worth it: this song talks about how she doesn't want a relationship to end because too much time has been spent on it to just leave the partnership. It's kind of the other side of Apart. Note: pay attention to the background vocals the high pitched vocals that are played every so often are Michal Jackson's. (no I'm not kidding)

13) He is: This is the song where she is telling her ex how much better her new man treats her. She wears the raspyness I love her for so well in this song.

14) Come a little bit closer: In this song is that she is comforting someone who is leaving her tomorrow but she wants to let them know that tonight will last forever. Her free styling is so perfect in this song it shows her talent but is never overdone

15) Love wouldn't count me out: As the title suggests this song talks about her heartache as her lover tells her he wants to beak it off but she says that their love won't let her be counted out of his life. The pain in her voice sounds so real it's very well done.

16) Wow: Finally my favorite slow song! she is just in awe of how much better her life is with the man that treats her right. She sounds bitter towards her ex (as she should) and then sounds so light hearted from her new love (again as she should)

17) Die without you: a Masterful duet with her brother (before he sounded like a chipmunk). It's just a wonderful ode to love sung in impeccable harmony.

Again the vocal direction on this CD is amazing it has a lot of songs to get you energized and some for when you wanna mellow out. This album was produced mostly by Darkchild and I'm so glad she is teaming up with him again for her fifth album (he did not make a single track on her fourth). If you must get one brandy album get this one however if you get two add her fourth (Afrodisiac) which is almost as hot.

Not her best, but a solid effort
P.S. PINK IPOD, YOU NEED A LIFE. GET OUT THERE AND LISTEN TO SOMETHING OTHER THAN LATIN MUSIC, U HATE EVERYTHING. YOU THINK SOME OF THE GREATEST R&B SINGERS HAVE BAD VOICES. YOU ALSO NEED A HEARING AID, CHILD.

Anyway. This is a good album. HOWEVER, this is not Brandy's best AT ALL. I personally, as a Brandy fan, recommend 'Afrodisiac' (<--- which doesn't suck, that is why some of the biggest music magazines gave it amazing reviews and went platinum) or 'Never Say Never'. This is a good album though, and I DO recommend this to somebody who has already bought the other two Brandy albums I mentioned.

Good solid effort, but not her best, to make the point loud and clear for all of the iTunes users.
Why Brandy doesn't get her credit...I don't know.
This is a great album, I've watched Brandy's progress since she stepped into the industry, and I feel that she's capitolized the "clean cut" R&B sound, unlike other female solo artist her aim isn't to sell her body, but her music. I respect her for that.