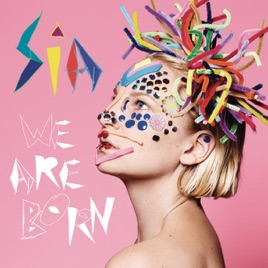 EDITORS' NOTES
From the first funky verse of opening cut "The Fight," it's crystal clear that We Are Born is a more upbeat and danceable outing than Some People Have Real Problems. Sia Furler partially credits the change in sound to her inspiring relationship with DJ JD Samson of Le Tigre and MEN. But she also has said that We Are Born was somewhat influenced by revisiting her childhood love for early recordings by Cyndi Lauper and Madonna. The infectious disco-fueled "You've Changed," is an instant summer hit that kicks Sia's fourth album into the stratosphere, making for a universal party soundtrack. It starts with a toy piano hinting at the hook before beats fall like hot rain and Sia comes in singing with a newfound voice, crooning more soulfully than ever before. In the equally contagious "Clap Your Hands" her voice recalls divas of the '90s as Britpop guitar riffs crank under a Velcro-catchy chorus loaded with more hooks than a pirate party. Those who miss Sia's down-tempo musings might appreciate her gorgeous and gossamer cover of Madonna's "Oh Father." 
EDITORS' NOTES
From the first funky verse of opening cut "The Fight," it's crystal clear that We Are Born is a more upbeat and danceable outing than Some People Have Real Problems. Sia Furler partially credits the change in sound to her inspiring relationship with DJ JD Samson of Le Tigre and MEN. But she also has said that We Are Born was somewhat influenced by revisiting her childhood love for early recordings by Cyndi Lauper and Madonna. The infectious disco-fueled "You've Changed," is an instant summer hit that kicks Sia's fourth album into the stratosphere, making for a universal party soundtrack. It starts with a toy piano hinting at the hook before beats fall like hot rain and Sia comes in singing with a newfound voice, crooning more soulfully than ever before. In the equally contagious "Clap Your Hands" her voice recalls divas of the '90s as Britpop guitar riffs crank under a Velcro-catchy chorus loaded with more hooks than a pirate party. Those who miss Sia's down-tempo musings might appreciate her gorgeous and gossamer cover of Madonna's "Oh Father." 
| | TITLE | | TIME |
| --- | --- | --- | --- |
| | | | |
| | | | |
| | | | |
| | | | |
| | | | |
| | | | |
| | | | |
| | | | |
| | | | |
| | | | |
| | | | |
| | | | |
| | | | |
| 14 | | | |
| | I'm In Here (Acoustic Version) | | |
15 Songs, 50 Minutes
Released:

Jun 7, 2010

℗ 2010 Monkey Puzzle under exclusive license to Sony Music Entertainment UK Limited
Ratings and Reviews
This record is BOMB . com!!!!!!!
OK. So after waiting over two years for this album, NO ONE should be disappointed! Sia brought it hard this time round. From the opening anthem, "The Fight" to the closer, "Oh Father," the listener is taken on a trip full of clapping, dancing, day, night, love, fun, light, dark unicorns and rainbows!! :) I never want to get into my car without this CD again! This is road trip material, club material, dancing at home in your undies material and shakin your groove thing material. I love each track so much but my ab fabs are:

#1. I'm in Here=This is one of the greatest ballads i have ever heard! I can't get enough of it!
#2. The Fight=from the kids chorus singing We Are Born at the beginning i am feeling it. I just want to dance around the room, put my hands in the air and get crazy!
#3. Clap Your Hands=makes me want to clap my hands...i think whenever i play this in my car, people in the car beside me think i am CRAZY cause i am singing at the top of my lungs and dancing like i am at the club!
#4. You've Changed=YES! MY ANTHEM! the lyrics and beats are infectious. and so POSITIVE! WOOHOO!!
#5. Bring Night=Nuff said. Bring it.
#6. Cloud=Love the chorus! I want to do my hippie dance to this one.
#7. Oh Father=not many people can pull off a Madonna cover. Sia can. That's all there is to it.

They are all so amazing! If you haven't bought the album yet, i suggest you stop reading reviews and click PURCHASE!!!!! Immediately!
Amazing
This is album Sia has been trying to make for years, and you can tell. The elation is incredibe from the start. I am a huge fan of her other stuff, and while this is quite a departure from songs like "Breathe Me," she sounds more comfortable here. Perhaps the lyrics aren't the deepest and some of the beats sound a bit overproduced, but all in all it's one hell of an album. Thanks Sia!
Amazing
I have waited so long for this. It's great. Standout tracks are:
Cloud
I'm In Here
Bring Night
Never Gonna Leave Me
The Fight
Clap Your Hands

It's all great. Buy it.