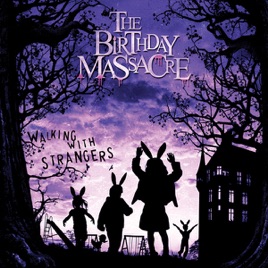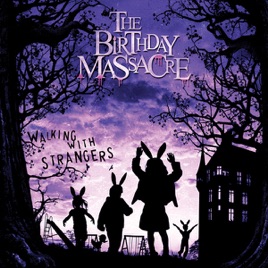 12 Songs, 49 Minutes
Released:

Sep 11, 2007

℗ 2007 Metropolis Records
Ratings and Reviews
AMAZING!!!!
The Birthday Massacre is a very good band and I think they deserve to be REALLY famous.
Best TBM CD ever!!
Out of all their CDs I like this one the most. I like pretty much every song on here. Actually I do like them all but Movie which is still good just a little too mellow for me. It's very rare to find a CD where I like pretty much every song. The CD has my favorite TBM songs. Goodnight, Red Stars, Unfamiliar, and Looking Glass. The songs like Weekend (though I'm so used to the remix of it) and Science are really fun and then the title track Walking With Strangers, Falling Down, and Remember Me, those are just as good. I never really heard To Die For before but it's a standout I think. Kill The Lights is a really good opener and being Movie is my least favorite, being mellow than all the rest, personally I think it's a really good album ender. It ties all the other tracks in. Red Stars was remixed two times after this and all versions are good, especially this one for it's the heaviest version available, and the original, and Looking Glass had a fantastic video. Goodnight is my favorite TBM track and I'd recommend it to anyone new to TBM who likes their more 'rock' style music. Unfamiliar is outstanding especially at the chorus which I love. Chibi's vocals are so amazing here, so well put together. It fits all the songs and really only she so far from what I've heard, can pull off this kind if music. It's the perfect blend of rock and synths and just amazing in general. I can't recommend this CD anymore than I already have because I've told everyone about it already. Buy this one because I can guarantee you will not regret it.
TBM rules!!! but... itunes is breakin my heart
This album is amazing, but after i purchased it the track "To Die For" would not download. i recieved a message saying that the file was corrupt. i tried downloading again numerous times with no luck. i hope this issue is fixed soon as i would love to experience the full album i payed for. still 5 stars because this is Itunes mistake, not TBM. Birthday Massacre sets forth a dark atmosphere, and then add a nice glittery sound to the mix which shines so much brighter in the darkness.