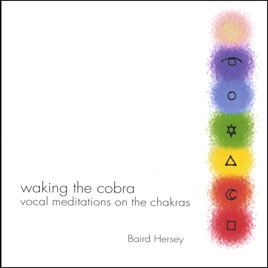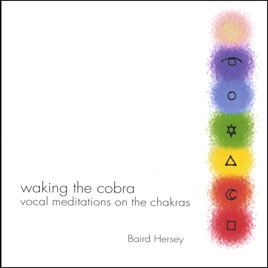 "Waking the Cobra", Vocal Meditations On the Chakras
Baird Hersey
| | TITLE | | TIME |
| --- | --- | --- | --- |
| | | | |
| | | | |
| | 1st Chakra: Box of Red Earth (Lahm) | | |
| | 2nd Chakra: Orange Crescent Moon Over Water (Vahm) | | |
| | 3rd Chakra: Pyramid In Yellow Flames (Rahm) | | |
| | 4th Chakra: Golden Wind, Emerald Star (Yahm) | | |
| | 5th Chakra: Spinning Blue Sphere (Hahm) | | |
| | 6th Chakra: Through the Violet Eye (Om) | | |
| | | | |
| | | | |
| | | | |
| | The Conch Shell - The Call | | |
| | | | |
| | | | |
| | | | |
| | | | |
| | The Conch Shell - The Call (reprise) | | |
| | | | |
18 Songs, 42 Minutes
Released:

Dec 31, 1998

℗ 1999 Bent Reords
Ratings and Reviews
Waking the Cobra: Description

Waking the Cobra is an overtone singing Chakra meditation CD recorded by Baird Hersey who later went on to form his Overtone Singing Choir PRANA. The only thing other than reverberation on this recording is the sound of Baird's voice.

The CD opens with a piece called "Atha", a Sanskrit word which means, "May the following have an auspicious beginning and successful end". It is the opening word of Patanjali's Yogasutras.

Next, is the title piece, "Waking the Cobra " which is a collection of seven short pieces. They are meditations on the traditional shape, color, element and sound for each of the chakras. Hersey first recorded a multi-layered vocal background drone or moving harmony. Then, singing two pitches at once, he recorded the high melody parts.

This is followed by an extended piece called "The Conch Shell, The Wheel and the Sword". These words are taken from the invocation chanted before beginning the practice of Ashtanga Yoga. Call and response, rising harmonies, vocal textures, and overtone melodies, are used in this extended piece to investigate the symbolic meaning of the objects.

The CD concludes with "Between Sthira and Sukha. This is a phrase from Patanjali's Yogasutras which means between alert steadiness and relaxed comfort. This piece searches to balance those qualities by alternating subtone multiphonic voices and high falsetto harmonies.


Nada in Practice
I was given a copy of Baird's album back when he originally released it via the mail. I had just recently return from a sound based yoga training program and was befuddled to have received the cd with no explanations, no charge, no inofrmation at all- other than the email address for Baird. After listening to his breath taking chanting ( I had in my own practice stumbled accross similar sounds within sounds) I was compelled to contact him. Baird said the album was given out freely to folks he had on a list. All I can say is I listened to the album so much I wore it out! I am so glad to have found it again here on itunes!
Brilliant
I've been doing chakra meditation for over 15 years and when I stumbled upon this recording, it was like being kissed on the third eye! I downloaded it immediately. Deeply spiritual and beautiful. I love it.