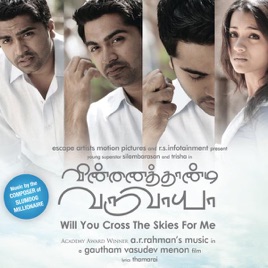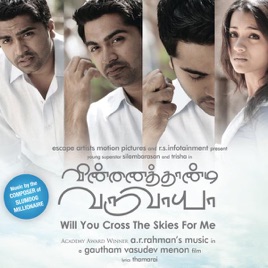 Vinnaithaandi Varuvaayaa (Original Motion Picture Soundtrack)
A. R. Rahman
| | TITLE | | TIME |
| --- | --- | --- | --- |
| | A. R. Rahman, Benny Dayal & Kalyani Menon | | |
| | A. R. Rahman, Chinmayi Sripaada & Devan Ekambaram | | |
| | A. R. Rahman, Karthik & Vivek Agrawal | | |
| | A. R. Rahman, Vijay Prakash, Blaaze & Suzanne D'Mello | | |
| | A. R. Rahman & Naresh Iyer | | |
| | A. R. Rahman & Shreya Ghoshal | | |
| | A. R. Rahman & Alphons Joseph | | |
7 Songs, 34 Minutes
Released:

Jan 8, 2010

℗ 2010 Sony Music Entertainment India Pvt. Ltd.
Ratings and Reviews
One of the best from Rahman in recent times
Masterpiece album! Dont go by initial hearings (i.e. if you dont like it at the start). Rahman's songs are the kind that slowly catch up on you but they will never let go of you for a very long time. "Omana Penne" is sung so well by Benny Dayal with the sweet voice of Kalyani Menon. Hosanaa is the eternal feel good song that makes you dance and jump in delight, Manippaya is such an emotional melody that you could possibly get tears, Shreya Goshal and ARR render is superbly. Kannukkul Kannai and Anbil Avan are good lively tracks that elevate your mood, Vinnaithandi Varuvaaya is like a song that you would enliven your dreams. But the best is reserved for the last! 'Aaromale' is just MASTERCLASS! Alphonse voice, his range is just exceptional. And Rahman decides to make a major experimental by trying a Blues kind of track in Tamil with Aaromale and succeeds spectacularly. Best of the album is a Malayalam song and this song will be celebrated for years to come!
Must buy!
A great album.Aromalle stands out and would fit in any classic rock station
AR Rahman strikes again!
I am not even sure which Dravidian language this is, but I have never heard more melodious tunes elsewhere. Omana Penne is sung very well, you lose yourself in Dayal's beautiful voice and suddenly Menon's verse brings you back to earth. Hosanna is very appealing to the ears as well. All I need now is to find the translated lyrics to REALLY appreciate the magic!