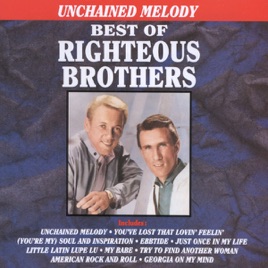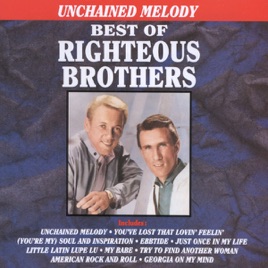 TITLE
TIME

Unchained Melody (Re-Recorded)

Righteous Brothers

You've Lost That Lovin' Feelin' (Re-Recorded)

Righteous Brothers

(You're My) Soul & Inspiration [Re-Recorded]

Righteous Brothers

Just Once In My Life (Re-Recorded)

Righteous Brothers

Little Latin Lupe Lu (Re-Recorded)

Righteous Brothers

Try to Find Another Woman (Re-Recorded)

Righteous Brothers

American Rock & Roll (Re-Recorded)

Righteous Brothers

Georgia On My Mind (Re-Recorded)

Righteous Brothers
10 Songs, 35 Minutes
Released:

Oct 1, 1990

℗ 1990 Curb
Ratings and Reviews
Always listen before buying!
I wanted to download "Unchained Melody", so when I typed it into the search engine, I happened to download the version from this particular CD-- WHICH ISN'T THE @#$# ORIGINAL VERSION! Grrr!
I wouldn't care, but it's a buck per song. There should really be something to indicate when a song-- particularly a classic oldie-- is a remake, and not the original.

I also wanted to download "De Doo Ron Ron" by the Crystals, and this time before downloading, I clicked on the sample to listen to it. Good thing, because the same thing would have happened with that one too.

The moral of the story is: always click on the song you want to download and listen to it first to make sure it's the version you want, particularly with oldies, which tend to get remade a lot.

BEWARE!
I just downloaded a version of Ebbtide. It was awful! Turns out it wasn't the original artist.
Then at the top of the page, I saw a list of "Most Downloaded Righteous Brother Songs" and clicked on Ebbtide... and listened.... It was fantastic and it was the great original !
I'm a bit annoyed that iTunes does not let the consumer know if it is a remake or the original. Luckly, someone left a warning regarding this problem.
So, do listen to the sample before you purchase a song.
STOP!
This is not what you're looking for!
These are remakes with much older Bill Medley, Bobby Hatfield.
The production quality here is not as polished and their voice are showing their age.
It wouldn't be as frustrating if it stated anywhere that these were not the originals.
If you're going to spend the money it's better to spend the same amount on the originals.