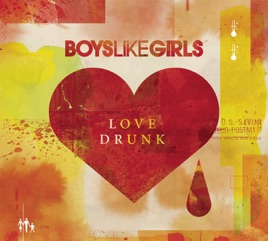 EDITORS' NOTES
On this Boston emo quartet's 2009 sophomore outing "Heart Heart Heartbreak" opens like the grand finale of a fireworks display, launching melodies that explode with barbed hooks, auto-tuned vocals and a hyper-glossy production. The anthemic title-track comes out punching with a four-on-the-floor disco beat and Martin Johnson's in-your-face vocals mixed right upfront to sound like he's trying to crawl out of your speakers. Emo stalwarts might be somewhat vexed to find Boys Like Girls veering away from the genre's blueprints on this album, but you have to give the band props for flirting with the revival of '80s AOR pop/rock (whether they're conscious of it or not) — "She's Got a Boyfriend Now" recalls Bryan Adams' penchant for nostalgic narratives crossed with an impassioned chorus reminiscent of "Jessie's Girl"-era Rick Springfield. And the riff-rocking, synth-laced "Real Thing" plays almost as triumphantly as Survivor's 1982 cinematic hit "Eye of the Tiger." Taylor Swift makes a surprising but extremely fitting cameo with a stellar duet on the burning ballad "Two Is Better Than One."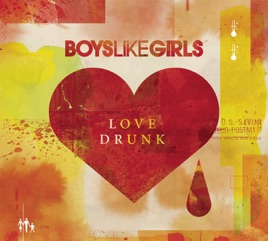 EDITORS' NOTES
On this Boston emo quartet's 2009 sophomore outing "Heart Heart Heartbreak" opens like the grand finale of a fireworks display, launching melodies that explode with barbed hooks, auto-tuned vocals and a hyper-glossy production. The anthemic title-track comes out punching with a four-on-the-floor disco beat and Martin Johnson's in-your-face vocals mixed right upfront to sound like he's trying to crawl out of your speakers. Emo stalwarts might be somewhat vexed to find Boys Like Girls veering away from the genre's blueprints on this album, but you have to give the band props for flirting with the revival of '80s AOR pop/rock (whether they're conscious of it or not) — "She's Got a Boyfriend Now" recalls Bryan Adams' penchant for nostalgic narratives crossed with an impassioned chorus reminiscent of "Jessie's Girl"-era Rick Springfield. And the riff-rocking, synth-laced "Real Thing" plays almost as triumphantly as Survivor's 1982 cinematic hit "Eye of the Tiger." Taylor Swift makes a surprising but extremely fitting cameo with a stellar duet on the burning ballad "Two Is Better Than One."
| | TITLE | | TIME |
| --- | --- | --- | --- |
| | | | |
| | | | |
| | She's Got a Boyfriend Now | | |
| | Two Is Better Than One (feat. Taylor Swift) | | |
| | | | |
| | | | |
| | | | |
| | The Shot Heard 'Round the World | | |
| | | | |
| | | | |
| | | | |
| | Love Drunk (Acoustic Version) [Bonus Track] | | |
| | Heart Heart Heartbreak (Acoustic Version) [Bonus Track] | | |
| | Love Drunk (Mark Hoppus Remix) [Bonus Track] | | |
14 Songs, 54 Minutes
Released:

Sep 8, 2009

℗ 2009 Sony Music Entertainment and Big Machine Records, LLC, Sony Music Entertainment
Ratings and Reviews
seriously?
I've never written a review before, but this just made me. I can't believe how many five star ratings there were! This album is just flat out bad. Where are the Boys Like Girls fans? Because I know you can't like this album. I was so disappointed, Boys Like Girls was so good, what happened? This isn't even Boys like Girls anymore…everyone is selling out.
WHY???
Why must all my favorite bands be turning into poppish zombies?
All time low
We the kings
Mayday parade
And now boys like girls
What's wrong with music these days?
I hope they all realize what they're doing is stupid and go back to the old sound that I love.
Not That Impressed...
I can't say I was exactly a huge fan of Boys Like Girls' debut album. But I definitely liked a lot of the songs on it, and I felt it was a decent effort. However, their second album, "Love Drunk," seems to be a less than satisfactory follow-up. Rather than improving on the sound of their previous album, Boys Like Girls have gone for an even more pop album. Sure, this album has its catchy moments, but I don't find that it comes close to being as good as the first album. The album starts out with "Heart Heart Heartbreak" which sounds to me like a discarded Cobra Starship track. It's ok, but after hearing "heart heart heartbreak" the first 3 times, it becomes really annoying. "Love Drunk" and "She's Got a Boyfriend Now" are decent tracks with catchy beats, but they don't have anything particularly special about them. "Love Drunk" particularly sounds like "Somebody Told Me" by the Killers. The fourth track "Two is Better Than One" definitely shows how far Boys Like Girls have strayed from their first album as this song features vocals from Taylor Swift. Again, this song is sweet, and I don't hate it, but it has nothing that makes it stand out from the millions of other songs out there. The album picks up at "Contagious" and "Real Thing," which aren't great tracks, but are catchier than the previous 4 tracks. "Someone Like You" gets extremely annoying after a while. In contrast, "The Shot Heard 'Round the World" is one of the best tracks off the album. (I like the evil laughing, haha.) "Chemicals Collide" is my favorite song off the album, because it reminds me a lot of Boys Like Girls' first album. The best of the slow tracks on the album is definitely "Go." I really, really like this song! It's funny that the 2 last songs of the album are my favorites. On the deluxe album, the bonus track remixes of Love Drunk are pretty good too. I think I like them both better than the original song. In conclusion, I can't say I hate this album. I more disappointed with the effort. It seems more effort went into shiny production than catchy songs. I'll give this album a solid 3 stars and hope that their third album will be better.

Tracks I recommend:
Go
Chemicals Collide
The Shot Heard Round the World
Contagious
Real Thing
Love Drunk