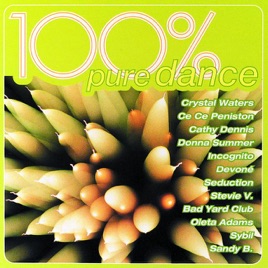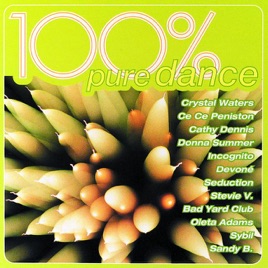 100% Pure Dance
Various Artists
TITLE
TIME

Touch Me (All Night Long)

Cathy Dennis
12 Songs, 52 Minutes
Released:

Jun 11, 1996

℗ 1996 Universal Records, a Division of UMG Recordings, Inc.
Ratings and Reviews
A Decent Collection but Only A Few Songs are Worth Buying
Sure, it's a nice collection of songs, but I'll save you a little money by suggesting a few songs to buy:

- Crystal Waters - "100% Pure Love" ... Pure 90s dance classic by a great vocalist.
- CeCe Peniston - "Finally" ... Really catchy.
- Donna Summer - "I Feel Love" ... It's a remix, but a good one. And this is a pure classic to begin with. Donna Summer is amazing and currently underrated.
- Sandy B - "Feel Like Singin'" ... A great vocalist, but "Make the World Go Round" should've been here.
- Cathy Dennis - "Touch Me All Night Long" ... A 12" Version (meaning it's really long and drawn out - the equivelant to a Club or Dub Mix nowadays) so you'll have to wait a while for the good part of the song, but it's a good download.

The other songs are either mediocre or weird. "In De Ghetto" somehow appears twice on the album, once with Crystal Waters, but even she can't save the song. It's about as weird as things can get. So, I would suggest downloading the songs listed above. Hey, it's only $4.99!
"I'll take a Del Beef Burrito and a combo cup!"
Devone's opus to groovin on the dancefloor "Energy" is a heart thumpin' beat underneath a pulsating cacophony of harmony. The man has got it figured out. Word. No secret why they put it dead middle of the collection: to get everybody up and movin! Give us more Devone!
Worth it just for the Donna Summer Mix
This cd has alot of classics that take you Way back, BUT it it's all about dance, then This cd is all about Miss Donna Summer! I think this mix circulated in 96 or 97, mixed by Rollo & Sister Bliss, it has been a CLUB ANTHEM for many years & still gets club play.