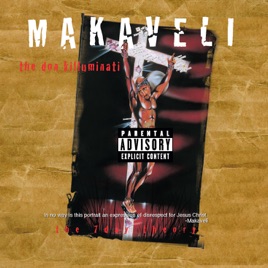 EDITORS' NOTES
Tupac Shakur's final album was written and recorded over just seven days in August of 1996. Unlike its predecessor, All Eyez On Me, Don Killuminati is lean and focused. The only guests present are members of Tupac's crew, the Outlawz. Most of the beats were crafted by Hurt-M-Badd, an underutilized Death Row R&B producer, and by Tupac himself. The accelerated nature of its recording gives Don Killuminati has an emotional urgency and directness that makes it one of Tupac's most arresting works. Explosions of anger segue into pleas for peace, and celebrations of the street lifestyle. Amidst all the paranoia and aggression, Pac has premonitions of his own death. "I'm a ghost in these killin' fields," he says on "Hail Mary." No one can be certain that Tupac intended this to be his last will and testament, but there is that aura about this album. The final two songs epitomize the conflict that burned in Pac's soul. "I hope for better days," he says in "Hold Ya Head." Then, in "Against All Odds," he turns around to blast all of his peers, like a kamikaze pilot on a final suicide mission. The album's final words linger like an uncanny echo: "Now I want war."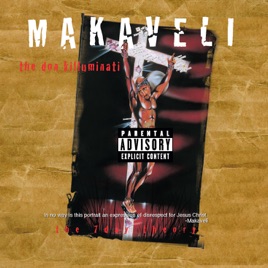 The Don Killuminati: The 7 Day Theory
Makaveli
EDITORS' NOTES
Tupac Shakur's final album was written and recorded over just seven days in August of 1996. Unlike its predecessor, All Eyez On Me, Don Killuminati is lean and focused. The only guests present are members of Tupac's crew, the Outlawz. Most of the beats were crafted by Hurt-M-Badd, an underutilized Death Row R&B producer, and by Tupac himself. The accelerated nature of its recording gives Don Killuminati has an emotional urgency and directness that makes it one of Tupac's most arresting works. Explosions of anger segue into pleas for peace, and celebrations of the street lifestyle. Amidst all the paranoia and aggression, Pac has premonitions of his own death. "I'm a ghost in these killin' fields," he says on "Hail Mary." No one can be certain that Tupac intended this to be his last will and testament, but there is that aura about this album. The final two songs epitomize the conflict that burned in Pac's soul. "I hope for better days," he says in "Hold Ya Head." Then, in "Against All Odds," he turns around to blast all of his peers, like a kamikaze pilot on a final suicide mission. The album's final words linger like an uncanny echo: "Now I want war."
| | TITLE | | TIME |
| --- | --- | --- | --- |
| | Bomb First (My Second Reply) | | |
| | | | |
| | | | |
| | | | |
| | | | |
| | | | |
| | | | |
| | | | |
| | | | |
| | | | |
| | | | |
| | | | |
12 Songs, 59 Minutes
Released:

Nov 5, 1996

℗ 2006 Death Row Records
Ratings and Reviews
My memories live to die, my Makaveli lives on.
First off, to those who have been asking, yes, 2Pac and Makaveli are the same person. 2Pac used the Makaveli alias after reading Niccolo Machiavelli's works. Also, to whoever said the image on the cover is bad, it's more symbolic than you might realize. 2Pac chose that style to symbolize the fact that the media had crucified him. In The Don Killuminati: The 7 Day Theory, 2Pac defines this album with the deepest lyrics ever recorded. The reason for the 7 Day Theory part is the fact that the album took a total of 7 days to finish (3 Days for lyrics, 4 days for production). He predicts his own death in several of the songs, and works hard to establish his future legacy in the last album before his death.
While there are certain songs that stand out more than others, you should purchase the whole album in order to gain full perspective on this album.
And to those who believe that 2Pac says "Suge shot me", that isn't true. It was believed to be that for awhile, especially due to the original recording quality, but after digitally enhancing the album, it actually says "Shoulda shot me", in regards to his enemies.
Lastly, to address the never-ending rumours about 2Pac's death: 2Pac obviously wants you to think that he's dead. Whether he is or not, he wants you to think he's dead, so pay him the respect he deserves. Buy this album...2Pac lives on.
Makaveli - i-am-alive
For 10 years now we have wondered whether Tupac is alive. Whether he is are not there are several hints on and in this cd. Such as inside of the cover, it says exit: 2Pac enter: Makaveli. Also under the executive producer name it says Simon. Who was one of jesus' 12 apostles and a witness to the resurection.

The album is also called the 7 Day Therory which may not be just a coincidence. Tupac died at 4:03. 4+0+3=7. He "died at age 25. 2+5=7. his B'Day s June 16. 6+1=7.

All Eyez On Me was dropped February 13, 1996 7 months to his death. Whenever he was shot on the seventh he survived that day plus 8, 9, 10 , 11, 12, and past on the 13th. 7 Days...

Makaveli is also spelled strangely. It is suppose to be spelled Machiaveli but is not. The way his alias is spelled t can be arranged into things like. Mak Alive or I Am Alive.

Even if he is not dead he wants you to think he is. So pay him the respect he deserves
Tha Best Ever To Pick Up A Mic
This is a good album it's a lil diffrent than his earlier albums. But here's one thing I noticed listen to ME AND MY GIRLFRIEND then go to Jay-Z's album and listen to BONNIE AND CLYDE '03 and u'll c wat i mean. Jay-Z and Pac wasn't never friends so he shouldn't be goin and takin his beats and ideas now that he's dead.