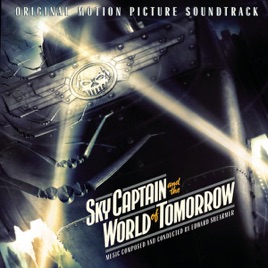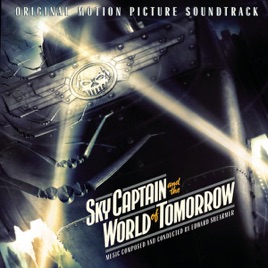 Sky Captain and the World of Tomorrow (Original Motion Picture Soundtrack)
Edward Shearmur
| | TITLE | | TIME |
| --- | --- | --- | --- |
| | Edward Shearmur & The London Metropolitan Orchestra | | |
| | Edward Shearmur & The London Metropolitan Orchestra | | |
| | Edward Shearmur & The London Metropolitan Orchestra | | |
| | Edward Shearmur & The London Metropolitan Orchestra | | |
| | Edward Shearmur & The London Metropolitan Orchestra | | |
| | Edward Shearmur & The London Metropolitan Orchestra | | |
| | Edward Shearmur & The London Metropolitan Orchestra | | |
| | Edward Shearmur & The London Metropolitan Orchestra | | |
| | Edward Shearmur & The London Metropolitan Orchestra | | |
| | Edward Shearmur & The London Metropolitan Orchestra | | |
| | Edward Shearmur & The London Metropolitan Orchestra | | |
| | Edward Shearmur & The London Metropolitan Orchestra | | |
| | Edward Shearmur & The London Metropolitan Orchestra | | |
| | Edward Shearmur & The London Metropolitan Orchestra | | |
| | Edward Shearmur & The London Metropolitan Orchestra | | |
| | Edward Shearmur & The London Metropolitan Orchestra | | |
| | Edward Shearmur & The London Metropolitan Orchestra | | |
| | Jane Monheit, Rick Montalbano, Michael Kanan, Orchestra & Orlando le Fleming | | |
18 Songs, 57 Minutes
Released:

Aug 24, 2004

℗ 2004 Brooklyn Films II and Filmauro S.R.L. / (P) 2004 SONY BMG MUSIC ENTERTAINMENT
Ratings and Reviews
Superb - in the Tradition of John Williams and Earlier
This movie was a groundbreaking feature that didn't get a lot of critical or popular acclaim. All of the live action was shot entirely on blue-screen and everything added later. Sky Captain was in effect, the predecessor of the far more successful films that employ computer graphics this way, including 'Sin City' and 'The 300'. Due to the limitations of memory and rendering times, the director made a decision to render the scenes in the computer in black and white and then add color and softening afterward. The result is a sort of hand-colored postcard of a movie, which is a gorgeous hommage to the serials of the 1940s and early 50s. To match that aesthetic, the music had to embody the same style, just as John Williams did in the Indiana Jones movies and James Horner did in Disney's 'The Rocketeer'. Shearmur proves himself up to the task; this is vintage movie music, colorful, exciting, big and brash like the heroes of those serials. The choice to use a full orchestra with all of these wonderful colors gave a vividness to the production that all the hand-coloring of those blue-screen computer animations could never pull off. Some of the tracks are so good (Notably 'The World of Tomorrow', 'The Robot Army', 'The Flying Wings Attack' and 'Manta Squadron') that they stand alone even without all of the cinematic pyrotechnics. Will they show up on some Hollywood Bowl or Philadelphia Pops 'Salute to the Serials' program? One can only hope. So, if you like the occaisonal swashbuckling score, like the music of Korngold, Max Steiner, or even John Williams, give this one a try. I think it's even better than Danny Elfman. Oh, one more thing: the cover of 'Over the Rainbow' by Jane Monheit on the final track makes me tear up each and every time I hear it, it's so tender and beautiful.
ARGUABLY THE BEST FANTASY SCORE OF THE DECADE!!
For some reason, Edward Shearmur does not yet have the popularity and fame as Horner, Williams, Goldsmith, and Howard, although he should! He is one of the most talented and skilled film composers of this generation. The "Sky Captain" score is BREATHTAKING! For fantasy adventure scores, this is the PERFECT ALBUM: tastefully and brilliantly composed, orchestrated, performed, recorded, and mixed. The rich clarity of this recording is unbeatable. To an objective ear, this score is as amazing as ANY fantasy adventure score ever written. It is completely authentic in its genre, and not campy like so many wanna-be fantasy scores. BUY IT!!!!
THIS is very good!
I love this music due to the hreoics and would go great with a game of warhawk. with this i love the comic books. A Must get!