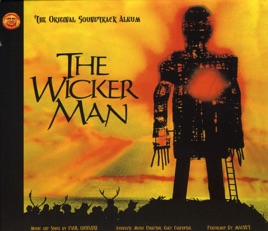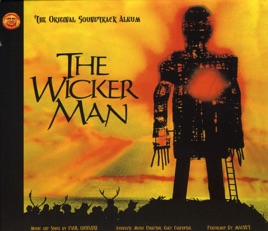 The Wicker Man (The Original Soundtrack Album)
Magnet
| | TITLE | | TIME |
| --- | --- | --- | --- |
| | | | |
| | | | |
| | | | |
| | | | |
| | | | |
| | | | |
| | | | |
| | | | |
| | | | |
| | | | |
| | Festival / Mirie It Is / Sumer Is A-Comen In | | |
| | Opening Music / Loving Couples / The Ruined Church | | |
| | | | |
| | | | |
| | Appointment With the Wicker Man | | |
| | | | |
16 Songs, 39 Minutes
Released:

Dec 31, 1972

℗ 1973 British Lion Music Ltd.
Ratings and Reviews
Not the same Magnet
This is not the same Magnet (Even Johansen). But check out his other stuff, great songwriter. I don't even think he was born at the time this movie was released (1973, not the Nick Cage version)

From Wikipedia:
Magnet were a band formed for the purpose of recording the soundtrack to the 1973 film The Wicker Man. The band were assembled by musician Gary Carpenter (the film's Associate Musical Director) to perform songs composed by New York songwriter Paul Giovanni. Originally under the moniker Lodestone, later to change to "Magnet" because of a conflict with another band, the group included Peter Brewis (recorders, jew's harp, harmonica, bass guitar, etc.), Michael Cole (concertina, harmonica, bassoon), Andrew Tompkins (guitars), Ian Cutler (violin), Bernard Murray (percussion) and finally Carpenter himself (piano, recorders, fife, ocarina, nordic lyre, Etc.). Carpenter, Brewis and Cole had recently graduated from The Royal College of Music in London and Tompkins, Cutler and Murray were all members of Carpenter's band Hocket. The band also featured Giovanni on guitar and vocals for many tracks and appeared in the film in various scenes.
Haunting melodies that will seep into your subconcious...
Many reviewers of the movie state that the soundtrack is the best part of the movie. They do not lie. The songs range from bawdy (Landlord's Daughter) to sweetly erotic (Willow's Song) to sinisterly innocent (Maypole). It is definately reminiscent of the time period the movie was created in, but many of the songs are still enjoyable today. I hope that people who are picking up the original movie because they want to see the horrible remake give this soundtrack a chance. Many of the songs are orchestral, but still highly enjoyable to listen to. The songs give off a good suggestion of the characters/situations in the movie. I would recommend this to fans of soundtracks like Donnie Darko, where music is used to enhance the movie, not just to sell cds or for the heck of it.
Corn Rigs - At Last!
I've been waiting 3 decades to listen to the full recorded versions of "Corn Rigs" and "Gently Johnny" from the soundtrack of my favorite movie, but the real treasures on this recording are the studio-clean versions of "The Landlord's Daughter" and "Sumer Is A-cumen in", which are buried in background sounds in the original soundtrack. I love the music in its original context, but these recordings are beautiful in their own right. Anyone looking for a soundtrack for contemporary neo-paganism will be well served to explore this collection.
Utterly terrific!