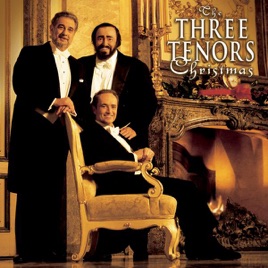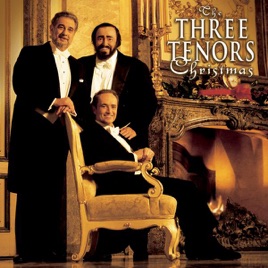 TITLE
TIME

Cantique de Nöel (O Holy Night)

By Adolphe Charles Adam - Plácido Domingo, Luciano Pavarotti, Steven Mercurio, Gumpoldskirchner Spatzen Children's Choir & Vienna Philharmonic

By John Francis Wade - José Carreras, Luciano Pavarotti, Steven Mercurio, Gumpoldskirchner Spatzen Children's Choir & Vienna Philharmonic

By Luciano Pavarotti & Vittoriano Benvenuti - José Carreras, Plácido Domingo, Luciano Pavarotti, Steven Mercurio & Vienna Philharmonic

By Johannes Brahms - José Carreras, Plácido Domingo, Luciano Pavarotti, Steven Mercurio, Gumpoldskirchner Spatzen Children's Choir & Vienna Philharmonic

By Traditional - José Carreras, Plácido Domingo, Luciano Pavarotti, Steven Mercurio & Vienna Philharmonic

By Traditional - Luciano Pavarotti, Steven Mercurio, Gumpoldskirchner Spatzen Children's Choir & Vienna Philharmonic

By Traditional - José Carreras, Plácido Domingo, Luciano Pavarotti, Steven Mercurio & Vienna Philharmonic

By Irving Berlin - José Carreras, Plácido Domingo, Luciano Pavarotti, Steven Mercurio, Gumpoldskirchner Spatzen Children's Choir & Vienna Philharmonic

By Traditional - José Carreras, Plácido Domingo, Luciano Pavarotti, Steven Mercurio, Gumpoldskirchner Spatzen Children's Choir & Vienna Philharmonic

By Franz Xaver Gruber - José Carreras, Plácido Domingo, Luciano Pavarotti, Steven Mercurio, Gumpoldskirchner Spatzen Children's Choir & Vienna Philharmonic

Pregaría (El Cant de L'ánima a la Verge)

By Fermin Maria Alvarez - José Carreras, Steven Mercurio, Gumpoldskirchner Spatzen Children's Choir & Vienna Philharmonic

By Traditional - José Carreras, Plácido Domingo, Luciano Pavarotti, Steven Mercurio, Gumpoldskirchner Spatzen Children's Choir & Vienna Philharmonic

Happy Christmas/War Is Over

By John Lennon & Yoko Ono - José Carreras, Plácido Domingo, Luciano Pavarotti, Steven Mercurio, Gumpoldskirchner Spatzen Children's Choir & Vienna Philharmonic

By Richard Strauss - José Carreras, Plácido Domingo, Luciano Pavarotti, Steven Mercurio, Gumpoldskirchner Spatzen Children's Choir & Vienna Philharmonic

Carol of the Drum (The Little Drummer Boy)

By Katherine K. Davis, Henry Onorati & Harry Simeone - José Carreras, Plácido Domingo, Steven Mercurio, Gumpoldskirchner Spatzen Children's Choir & Vienna Philharmonic

By Traditional - José Carreras, Plácido Domingo, Luciano Pavarotti, Steven Mercurio, Gumpoldskirchner Spatzen Children's Choir & Vienna Philharmonic

I'll Be Home for Christmas

By Kim Gannon, Walter Kent & Buck Ram - José Carreras, Plácido Domingo, Luciano Pavarotti, Steven Mercurio, Gumpoldskirchner Spatzen Children's Choir & Vienna Philharmonic

By Leroy Anderson - José Carreras, Plácido Domingo, Luciano Pavarotti, Steven Mercurio, Gumpoldskirchner Spatzen Children's Choir & Vienna Philharmonic

By Felix Bernard - José Carreras, Plácido Domingo, Luciano Pavarotti, Steven Mercurio, Gumpoldskirchner Spatzen Children's Choir & Vienna Philharmonic

By Plácido Domingo Jr. - Plácido Domingo, Steven Mercurio, Gumpoldskirchner Spatzen Children's Choir & Vienna Philharmonic

By José Feliciano - José Carreras, Plácido Domingo, Luciano Pavarotti, Steven Mercurio, Gumpoldskirchner Spatzen Children's Choir & Vienna Philharmonic
21 Songs, 1 Hour 2 Minutes
Released:

Oct 31, 2000

℗ 2000 Sony Music Entertainment
Ratings and Reviews
Perfect
This is the original recording of the Three Tenors concert in Vienna. Took a while to find as it wasn't shown under my original search for The Three Tenors, but it's perfect for Christmas decorating rituals around the house and watching the snow fall. The sound quality is as good as it gets for digital recordings. Their voices are so powerful at times it gives me the chills and makes my arm hair stand on end. Highly recommend purchasing instead of the other versions available through iTunes.
Beautiful.
Classical beautiful I don't have enough words to describe the sound of these men singing about the most wonderful celebration of our Christ
Three Tenors are SUPERB
I really Enjoyed this Album, their voices are a Treasure !