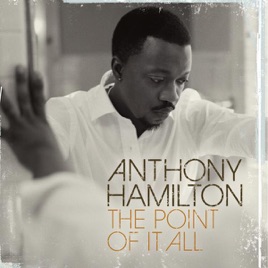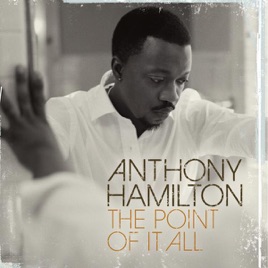 4.8, 94 valoraciones

$9.99
| | TÍTULO | | DURACIÓN |
| --- | --- | --- | --- |
| | | | |
| | Cool (feat. David Banner) | | |
| | | | |
| | | | |
| | | | |
| | | | |
| | | | |
| | | | |
| | | | |
| | | | |
| | Prayin' for You / Superman | | |
| | | | |
| | | | |
| | | | |
14 canciones, 59 minutos
Se estrenó:

16 de dic. de 2008

℗ 2008 Arista Records LLC
Valoraciones y reseñas
Anthony Hamilton-The Point Of It All
Being awarded his seventh Grammy nomination, Hamilton releases his third album, The Point Of It All nearly three years to the exact date since Ain't Nobody Worryin'. Hamilton expressed that he was creating more uptempo and happier tracks, opposed to his known heartbreaks, here's how it turns out.

The News: Great Mark Batson production that really starts things out on a good note, as Mr. Hamilton croons soulfully about the drugs and violence of retro 70's. However these ills in society continue currently, making the track relevant as Hamilton sings about giving us a savior and the story of "skinny Billy, they used to call him good and plenty, brotha had hustle for hours, sellin' dope in hopes of power". A gripping narrative that has Hamilton flexing his falsetto and baritone. 4.5/5
Cool: Lead single that showed a lighter side to Hamilton who was typically known for his heartbroken tracks. Kelvin Wooten's down south vibing guitar production sets the tone, as Banner hints at the falling economy and comforts with "we can talk of the world" or "everythang's gon be alright". Mississippi rapper David Banner stops by to add a countrified rap, however it isn't necessary and mainly to appeal to mainstream audiences. 4/5
The Day We Met: Horns and bass thumping production provide the background to Hamilton's soulful croon about being in love with his other. A repetitive and playful piano backs things, while Hamilton sings about of being in tune with his lady from the start. 3/5
Diamond In The Rough: Dre & Vidal deliver some scratchy electric guitar, throw in that soulful Anthony Hamilton singing and you have a beautifully made assurance to a lady of sticking in a relationship. 3.5/5
I Did It For Sho: Intimate and smooth, Hamilton croons about an empty relationship that isn't worth having. Hamilton lays sounds both sad as he reminisces, "all the love we had" yet replies that he "did it for sho". 3/5
Hard To Breathe: Strings and piano back Hamilton who sings about getting caught up in a woman and has difficulty controlling his love for her. Not sleeping and nervous breathing are all soulful crooned by Hamilton who builds to a solid bridge that has some great baritone. 3.5/5
Soul's On Fire: Horns and piano once again back Hamilton who is on the wrong path and struggling of a soul on fire. Singing about life's troubles, Hamilton offers, "I'm headin' down the wrong way, it's getting hard to breathe, oh will somebody please help me". The hook is what truly shines, as Hamilton is lively and on point. 3.5/5
Please Stay: One of the best tracks in the album lies in the regretful and hurting cry of "Please Stay". Hamilton pleads with his lady and admits to his wrongdoings, but is confidently willing to do anything to get his woman back. Jack Splash's production is definitely nice, as Hamilton delivers that in the gut soul with his falsetto and hook. 4.5/5
The Point Of It All: Relative to earlier hit "Can't Let Go", Hamilton revises things and slows it down even more. Here Hamilton lays down the point of it all, which is that he loves her and can't stay away from his lady. Once again Hamilton hits home with this lovely piece in needing his lady. 4.5/5
Fallin' In Love: The lively uptempo "Fallin' In Love" shows the singer's more uptempo direction. Solid song that has another good hook. 3.5/5
Prayin' For You/Superman: The gospel inspired "Prayin' For You" has Hamilton singing about praying for his lady and keeping things uptempo. Call and response formulated, Hamilton keeps things up, until he switches things to the slow bluesy "Superman". 3.5/5
Her Heart: The balladry "Her Heart" has adult contemporary written all over, and while it's a bit too slow for some, the track is definitely a heartfelt track of being disrespectful to his lady. However Hamilton reflects on losing his lady and how true to him she was, truly a nice ballad. 3.5/5
Fine Again: The hopeful and comforting "Fine Again" shines like a bright new day with Hamilton confident that things will be fine again. A fitting end to a solid album. 3/5
She's Gone: Hamilton goes to his mom for some advice of a relationship, hoping that she's wrong that his lady's gone. Solid bonus with some good production from Heavy D. 3/5

Hamilton's third release doesn't differ too much from his previous releases, while having uptempo tracks, it stays true to Hamilton's skill. Truly another beautiful effort from Hamilton who works with his usual crew of Mark Batson, Kelvin Wooten and Dre & Vidal whom all fit Hamilton with piano, horn and bass laden productions. Beautiful regret in "Please Stay", the chilled southern feel of "Cool" and intimate relative of "Can't Let Go", "The Point Of It All" all shine as individual tracks. But for the most part the album is a success, as the cautionary and socially aware "The News" strikingly impresses, while the slow ballad, "Her Heart" seems ready for adult contemporary. A stunning three disc catalog, Hamilton is one of R&B's strongest vocalists. Every track has Hamilton's retro soul that is involved in every track, as Hamilton delivers one of the year's best albums.

Rating: 8.5 out of 10

I have been waiting for this!!!
OMG i could not wait for this to come out! This is one of the most powerful CDs to come out this week and I plan to get multiple copies for my car, home, and work, and for play! "Cool" is the best description, and words in his other songs hit me to the heart hard. I love it, cant get enough of it, from concert to disc he is beautiful. He is a must hear artist and should be highly complimented for the unique voice he carries. Such a tasteful man, I enjoy all of his music and support through and through.
Buy two or three copies of this album!!!!
This album is a breath of fresh air! I actually went out and purchased this album today after reading all the exceptional reviews on iTunes a couple of weeks ago. I am not dissapointed at all! Anthony Hamilton is a tremendous artist and writer as well. His words have a way of singing to my soul! After reading his thank you's in his album cover (which is purely why I still buy cd's) I have a gained even more respect for him. The thank you that this man wrote to his wife is A-M-A-Z-I-N-G! There aren't too many men in the world that can display their love of a woman they way he did.....and this just makes his songs even more personable! Thanks Anthony Hamilton....I LOVE UR ALBUM!