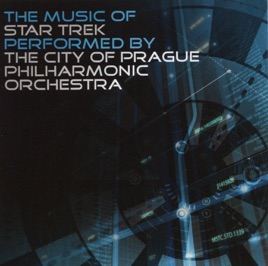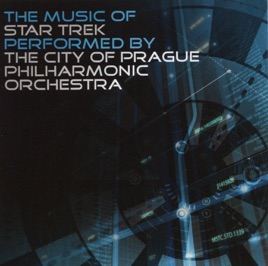 The Music of Star Trek
The City of Prague Philharmonic Orchestra & The Daniel Caine Orchestra
TITLE
TIME

End Titles (From "Star Trek: The Motion Picture")

The City of Prague Philharmonic Orchestra

Main Titles (From "Star Trek II: The Wrath of Khan")

The City of Prague Philharmonic Orchestra

Bird of Prey Decloaks (From "Star Trek III: The Search for Spock")

The City of Prague Philharmonic Orchestra

Main Titles (From "Star Trek IV: The Voyage Home")

The City of Prague Philharmonic Orchestra

Life's a Dream (From "Star Trek V: The Final Frontier")

The City of Prague Philharmonic Orchestra

Overture (From "Star Trek VI: The Undiscovered Country")

The City of Prague Philharmonic Orchestra

Main Titles (From "Star Trek: Generations")

The City of Prague Philharmonic Orchestra

End Titles (From "Star Trek: First Contact")

The City of Prague Philharmonic Orchestra

End Titles (From "Star Trek: Insurrection")

The City of Prague Philharmonic Orchestra

A New Ending (From "Star Trek: Nemesis")

The City of Prague Philharmonic Orchestra

Hella Bar Talk / Enterprising Young Men (From "Star Trek")

The City of Prague Philharmonic Orchestra

Star Trek: Original TV Version

The City of Prague Philharmonic Orchestra

Theme (From "Star Trek: The Next Generation")

The Daniel Caine Orchestra

Theme (From "Star Trek: Deep Space Nine")

The City of Prague Philharmonic Orchestra

Theme (From "Star Trek: Voyager")

The City of Prague Philharmonic Orchestra

Where My Heart Will Take Me (From "Star Trek: Enterprise")

The City of Prague Philharmonic Orchestra
16 Songs, 1 Hour 9 Minutes
Released:

Aug 11, 2009

℗ 2009 Silva Screen Records
Ratings and Reviews
Great performances
I looked through many compilations of Star Trek music not from original soundtracks and this recording is quite exceptional. The orchestra is quite seasoned and technically capable. In fact, for many of the themes these performances are better than the originals. The brass section of the orchestra is quite good which is key. I really enjoyed this album and recommend it.
Buy for the movie scores not the TV shows
The credits and scenes from the Star Trek movies are all pretty good but this album has a split personality when it comes to the TV soundtracks, the themes from Next Generation and DS9 sound like something that the local high school band would play and the phrasing during the opening of the TNG Theme is horrible and sounds like someone never hear the original music at all and the same goes for the theme from Enterprise, the only ones that are close are from Voyager and TOS. So if you were buying the album for the TV theme songs forget about it.
Voyage
A deep musical adventure, a bit repetitive at times, a treat to hear some old favorites