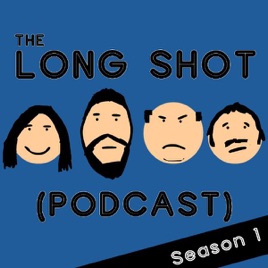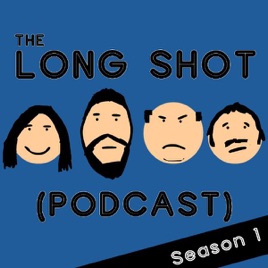 | | TITLE | | TIME |
| --- | --- | --- | --- |
| | Episode #101: Cookies (Previously Unreleased) | | |
| | | | |
| | Episode #103: Alarm Clocks | | |
| | | | |
| | Episode #105: The Doctor (feat. Jen Kirkman) | | |
| | | | |
| | Episode #106.5: The Making of "Dog Shoes" | | |
| | Episode #107: Childhood (feat. Dave Holmes) | | |
| | | | |
| | Episode #109: Best Friends (feat. Andy Daly) | | |
| | Episode #110: The Moon (feat. Ron Lynch) | | |
| | | | |
| | Episode #112: Authors (feat. Jason Nash) | | |
| | Episode #113: Explorers (feat. Paul Scheer) | | |
| | Episode #114: Tattoos (feat. Tig Notaro) | | |
| | Episode #115: Dancing (feat. Marc Maron) | | |
| | Episode #116: Joy (feat. Steve Agee) | | |
| | Episode #117: Fireworks (feat. Josh Haness and Josh Weinstein) | | |
| | Episode #118: A Look Back At Season 1 (Special Bonus Track!) | | |
19 Songs, 18 Hours 49 Minutes
Released:

Oct 19, 2011

℗ 2011 The Long Shot Podcast
Ratings and Reviews
Highly Recommended: An awesome group dynamic comedy quartet
This is a podcast with four funny, down-to-earth comedians. The topics they cover range from the trivial to the profound, and there's never been an episode to date where I haven't laughed out loud (sometimes while wearing headphones in public and getting stares from random strangers). I always look forward to their weekly podcast, and I now feel like I know each of them. The dialog is very entertaining; they don't hold back their opinions and aren't afraid to reveal their personal lives. I love the candid, unpredictable conversations, the idea of a weekly theme (that spawns countless tangents), and the guests they invite. Very highly recommended.
Fun..Funnier...Funniest!
I love listening to this podcast every evening! Laugh out loud fun! Thank You and keep it coming!
Best podcast ever!!!
Do yourself a favor (honestly) an purchase/download this podcast. I am an avid podcast listener (I listen at work everyday) and this is by far my favorite. I stumbled upon this podcast after hearing Conroy on a few episodes of 'Improv 4 Humans' and this quickly became much beloved. True, honest laughter is rare and difficult to find and this podcast delivers. The group dynamic amongst the regulars is fantastic, however it is often the interaction with the guests which leads to massive laughs. I can't say enough good things about this podcast and I would recommend it above any other to my friends. LOVE LOVE LOVE IT!
More By The Long Shot (Podcast)
See All