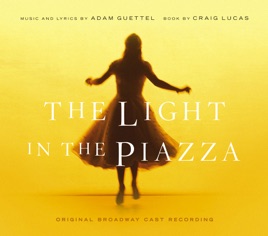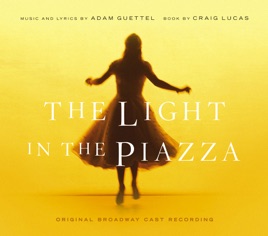 18 Songs, 1 Hour
Released:

May 24, 2005

℗ 2005 Nonesuch Records Inc.
Ratings and Reviews
A New Classic
Kelli O'Hara's soaring voice is perfectly matched to Adam Guettel's lyrical twists and turns. This score does exactly what every good score should do – It expresses the deeper truths of the story in a way only music can. These vocal lines pull on that place in your heart which is reserved for those first feelings of love. Simply beautiful.
You Need This Album
With Light in the Piazza Adam Guettel shows us a light at the end of the dark tunnel of juke-box musicals and campy adaptations that fill Broadway houses. While "Piazza" is not an original story, the music is refreshingly different, gorgeous, and alive. Clarke and O'Hara have amazing instruments, and Guettel's work shines through in their impressive voices. The orchestrations will please all those who loved "Floyd Collins" and "Myths and Hymns" or anyone who is looking for the new standard of beauty on Broadway. No more diva-based showstoppers or Sweedish pop-songs. This show has substance and the soundtrack captures it beautifully.
magnifico! bravo!
this musical is INCREDIBLE! i saw it just a few days ago in new york, as it is currently playing in lincoln center, and i fell in love with it! if you go to new york, i strongly urge you to go see this musical! these aren't the same performers as the ones currently on broadway, but both casts are wonderful! i loved it on broadway, and i love the soundtrack! this is truly great music!