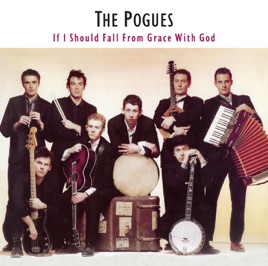 EDITORS' NOTES
Producer Steve Lillywhite came aboard for the Pogues' third album to steady their ramshackle sound, capturing what is for many the band's finest album. Elvis Costello's production of the band's previous album, Rum, S****y and the Lash, showcased their anarchic streak, whereas Lillywhite streamlines the group's rhythm section into a more cohesive unit, smoothing over their bumps and freeing up the sonic space so the deep and varied instrumentation (tin whistle, mandolin, accordion, dulcimer, banjo, horns) never turns to overpopulation. "Turkish Song of the Damned" and "Thousands Are Sailing" motor along with an assurance uncommon to the Pogues up till this point. However, the album's true centerpiece is the whisky-soaked piano ballad,  "Fairytale of New York," a duet with Irish singer Kirsty MacColl (daughter of Irish legend Ewan MacColl and wife to Lillywhite) that swells with a string crescendo, while nostalgically recalling a Christmas Eve in Manhattan that sounds haunted by ghosts many decades past. The expanded edition adds several tracks of distinction, including the traditional "Mountain Dew" and "The Irish Rover."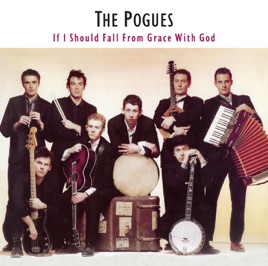 If I Should Fall from Grace With God [Expanded]
The Pogues
EDITORS' NOTES
Producer Steve Lillywhite came aboard for the Pogues' third album to steady their ramshackle sound, capturing what is for many the band's finest album. Elvis Costello's production of the band's previous album, Rum, S****y and the Lash, showcased their anarchic streak, whereas Lillywhite streamlines the group's rhythm section into a more cohesive unit, smoothing over their bumps and freeing up the sonic space so the deep and varied instrumentation (tin whistle, mandolin, accordion, dulcimer, banjo, horns) never turns to overpopulation. "Turkish Song of the Damned" and "Thousands Are Sailing" motor along with an assurance uncommon to the Pogues up till this point. However, the album's true centerpiece is the whisky-soaked piano ballad,  "Fairytale of New York," a duet with Irish singer Kirsty MacColl (daughter of Irish legend Ewan MacColl and wife to Lillywhite) that swells with a string crescendo, while nostalgically recalling a Christmas Eve in Manhattan that sounds haunted by ghosts many decades past. The expanded edition adds several tracks of distinction, including the traditional "Mountain Dew" and "The Irish Rover."
| | TITLE | | TIME |
| --- | --- | --- | --- |
| | If I Should Fall from Grace With God | | |
| | Turkish Song of the Damned | | |
| | | | |
| | | | |
| | | | |
| | | | |
| | | | |
| | Medley: the Recruiting Sergeant / the Rocky Road to Dublin / Galway Races | | |
| | Streets of Sorrow / Birmingham Six | | |
| | | | |
| | | | |
| | The Broad Majestic Shannon | | |
| | | | |
| | | | |
| | | | |
| | | | |
| | | | |
| | | | |
| | | | |
19 Songs, 1 Hour 3 Minutes
Released:

Jan 18, 1988

℗ 2006 Warner Music UK Ltd., Manufactured & Marketed by Rhino Entertainment Company, a Warner Music Group Company
Ratings and Reviews
Just shy of being their best

If Elvis Costello caught the Pogues at their rawest, then Steve Lillywhite helped refine thier sound. That is he took them from the traditional Irish folk with punk attitude sound to one that really focused on the talents of the band and allowed more diverse sounds and complex arrangements. Helping shape this album was the addition of Terry Woods and some fine songwriting not only from Shane, but also from Jem Finer and Phillip Chevron.

This album is nothing short of an emotional pallette from the raucous fun of the title track and Bottle of Smoke to the sweet Lullaby of London to the uber political Birmingham Six, If I Should Fall From Grace with God really has somehting for everyone. This album has two standouts that make this album a near classic: Fairytale of New York is the bittersweet duet with Kirsty MacColl that has become both an Irish and Christmas standard and the oft overlooked Thousands Are Sailing, which, interestingly enough was penned by Phillip Chevron. It's a dramatic, sad, celebratory song of the Irish experience.

The album also mixes in some fun Irish standards to keep the rhythm going. The only misstep on this album is probably the shot at Spanish music with Fiesta, which is meant to be fun, but is really a bit of a mess. It sounds like a muddled mess and doesn't fit with the rest of the record. Rhino has been kind enough to include some rare tracks with this release, including two with the Dubliners and some tracks that have surfaced on prior imports of the album. Whatever release you get, do not pass up this album - it is a classic.
Easily the Pogues finest work . . .
Along with Sinead O'Connor's Lion and The Cobra and Van Morrison/The Cheiftains' Irish Heartbeat, this album provided a soundtrack for my honeymoon in Clare, Kerry, and Cork some 16 years ago. I can still smell the peat fires and taste the Guinness whenever I put on any of these tracks. Highly recommended.
Good Album, but has 3 of my favorite Pogue Songs
My 3 favorite Pogue Songs are on this album:
1) Medley: the Recruting Sergeant/ the Galway Races
2) Bottle of Smoke
3) Fairytale of New York