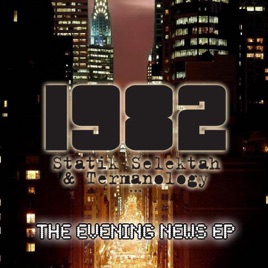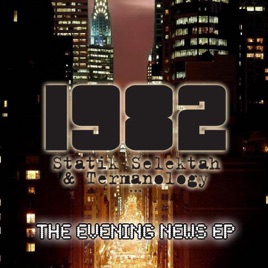 The Evening News (feat. Statik Selektah & Termanology)
1982
| | TITLE | | TIME |
| --- | --- | --- | --- |
| | Start It Like This (feat. Statik Selektah & Termanology) | | |
| | Money Is Reality (feat. Action Bronson, Statik Selektah & Termanology) | | |
| | Chill As Hell (feat. Statik Selektah & Termanology) | | |
| | Timothy McVeigh (feat. Wais P the Pimp, Statik Selektah & Termanology) | | |
| | Assasins (feat. Kali, Ghetto, Statik Selektah & Termanology) | | |
| | Always (Statik's Interlude) [feat. Statik Selektah & Termanology] | | |
| | Baby Mama (feat. Josh Xantus, Statik Selektah & Termanology) | | |
| | Chasing Diamonds (feat. Wais P the Pimp, Statik Selektah & Termanology) | | |
8 Songs, 21 Minutes
Released:

Dec 31, 2010

℗ 2010 Showoff/ST. Records
Ratings and Reviews
Beautiful
This is the type of music that should be playing on the radio, not that young money bull
What a Way to bring in the new year!!
If you copped 1982 an enjoyed that album you'll love this 3rd attempt. That is if you gotten the free 1982 EP. You can already expect the greatness from them, giving you that raw, gritty hip hop from your childhood days of the early 90-98.
NICE
Better than most of the wack sh!t out today. Just wish there were more songs, but its all good.