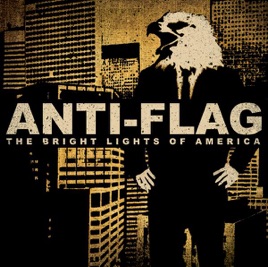 EDITORS' NOTES
Like the Clash and Nirvana before them, Anti-Flag are a fiercely anti-corporate band who eventually signed with a major label as a way to get their music to more people. And like The Clash and Nirvana before them, Anti-Flag refuse to stay the band they were when they were 19. Without sacrificing any of their conviction, the band brings new textures, tempos, and instrumentation into their recipe. Piano might not be deemed punk, but listen to "Vices" before you pass judgment. Meanwhile, "The Bright Lights of America" and "We Are the Lost" are anthems for the disaffected; even in their fame, the band has not lost its ability to speak for disenfranchised young people. Many of those young people are now accusing Anti-Flag of selling-out, an issue the band addresses on "Go West." Over a mournful, surging chorus, the song urges its listener to follow an unbeaten path: "The choice is up to you / Life can lead you along on a leash / Or you can break free and run on your own."
EDITORS' NOTES
Like the Clash and Nirvana before them, Anti-Flag are a fiercely anti-corporate band who eventually signed with a major label as a way to get their music to more people. And like The Clash and Nirvana before them, Anti-Flag refuse to stay the band they were when they were 19. Without sacrificing any of their conviction, the band brings new textures, tempos, and instrumentation into their recipe. Piano might not be deemed punk, but listen to "Vices" before you pass judgment. Meanwhile, "The Bright Lights of America" and "We Are the Lost" are anthems for the disaffected; even in their fame, the band has not lost its ability to speak for disenfranchised young people. Many of those young people are now accusing Anti-Flag of selling-out, an issue the band addresses on "Go West." Over a mournful, surging chorus, the song urges its listener to follow an unbeaten path: "The choice is up to you / Life can lead you along on a leash / Or you can break free and run on your own."
| | TITLE | | TIME |
| --- | --- | --- | --- |
| | | | |
| | The Bright Lights of America | | |
| | | | |
| | | | |
| | | | |
| | | | |
| | | | |
| | | | |
| | | | |
| | | | |
| | | | |
| | | | |
| | | | |
| | | | |
| | What Do You Think About Western Civilization | | |
| 16 | The Making of "The Bright Lights of America" | | |
16 Songs, 59 Minutes
Released:

Mar 28, 2008

℗ 2008 RCA Records, a unit of SONY BMG MUSIC ENTERTAINMENT
Ratings and Reviews
what?!
well, the album sounds great- point blank. how many times must bands be confronted with becoming "sell-outs"? are you kidding? does anyone out there know how tough it is to make any kind of decent money in the music industry right now, unless you're completely huge? anti-flag is a great band that came up through the DIY and small time labels, and now it's their turn. being signed to a huge company means they can get their message out to that many more people.

i am so sick of hearing about selling out. so now anti-flag gets to make a decent living at music. anti-flag is still making the music they want to make. so much for fan support... music fans can be so horrible...
If you really listened...
The lyrics are inspiring, and though it's not quite as overtly political as their last few albums, this touches more on the issues directly impacting their fans (not to say that political issues don't impact all of us.) This was exactly the album I needed to hear at this point in my life, though when I first heard it I hated it. I gave it another, closer listen, and read the lyrics, and realized how much this band has grown from the first time I saw them live in 1999, back when #2 hardly sang at all and Justin still sounded like a whiny teenager. They are always changing, and that is part of what I love about them. So if you hate it at first, like I did, give it a second chance. It's worth really getting to know this album and this band in general.
Hmmmm?
Why does everyone say that they sold out on this album? I think this is a great album, maybe not as good as some of their earlier ones, but definetly not a sell out. It's a band maturing, not giving up their message.