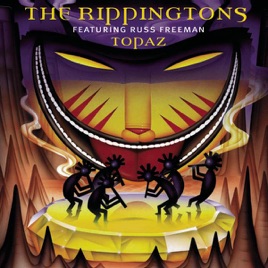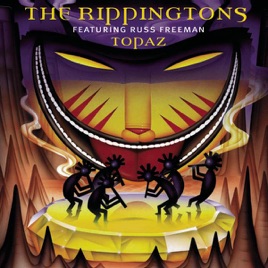 4.9, 18 vurderinger

$9.99
| | TITEL | | TID |
| --- | --- | --- | --- |
| | Taos (feat. Russ Freeman) | | |
| | Summer Lovers (feat. Russ Freeman) | | |
| | Spirits In the Canyon (feat. Russ Freeman) | | |
| | Under a Spanish Moon (feat. Russ Freeman) | | |
| | Temple of the Sun (feat. Russ Freeman) | | |
| | Stories of the Painted Desert (feat. Russ Freeman) | | |
| | Snakedance (feat. Russ Freeman) | | |
| | Led Here By an Eagle (feat. Russ Freeman) | | |
| | Topaz: Gem of the Setting Sun (feat. Russ Freeman) | | |
| | Rain (feat. Russ Freeman) | | |
10 sange, 48 minutter
Udgivet:

18. maj 1999

℗ 1999 BMG Entertainment
Vurderinger og anmeldelser
Topaz - Favorite Rippingtons CD
This is probably my favorite Jazz CD of all time. "Taos", "Stories of the Painted Desert" and "Led Here By an Eagle" are hypnotic. When my wife and I listen to these tracks, they take us to the Southwest and all the beauty and serenity of the deserts, mountains and canyons. The more you hear it, the better it gets. My wife NEVER takes this CD out of her car--its that good! ABSOLUTELY INCREDIBLE!
Ear drum candy
You know how you buy an album and you wait for the proverbial "Epic Fail" of a track? This album (amazingly) lacks that track. Not that you would expect anything less from these guys. This album comes at you hard track after track. One of the best albums I have purchased all year.
The very best by The Rippingtons
"Black Diamond" was a hard act to follow, but nothing tops "Topaz." Evoking the American southwest, this album transcends the oft-used label of smooth jazz. A musical gateway to another place, that wisely avoids any vocal tracks (the downfall of at least 2 other Rippingtons albums.) A peaceful auditory escape.