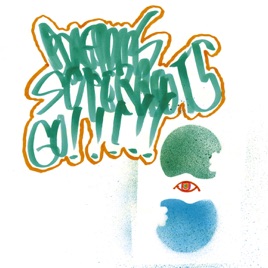 1 Song, 1 Hour 4 Minutes
Released:

Dec 31, 1994

℗ 2006 Warner Music Japan. The copyright in this sound recording and artwork is owned by Warner Music Japan. All unauthrized copying, lending, public performance and broadcasting prohibited. All Rights Reserved
Ratings and Reviews
Good- but not great.
After five minutes of overall calmness, Eye screams "GO!!!!!" at the top of his lungs and gives you a heart attack. But then the rest of the song is quite slow-placed and calm actually, with long stretched out guitar chords and cymbal washes. For 55 minutes. It's almost like House of Sun with less instruments and electric guitars instead of sitars.
Transition
This album marks the transition from The Boredoms period of disjointed explodo rock madness to more percussive and sometimes ambient soundscapes. Sitting right in the midde of those two extremes, Super Roots 5 could be the most essential of all their recordings. When I first heard the one hour plus track in it's entirety back in 2000, I turned around and pressed "play" again for another spin immediately. My head couldn't get enough! If you let it do it's job, this one will easily have you exploring inner worlds and you won't want to come back! A must!
An Ocean Wash of Sound
Like the title of the song says, it is one long blast of GOOOOOOOOOOOOOOOOO!!!!!!!!!!!
This was an example of Boredoms during their 'slow trance' phase.
Note the official description of this album listed above is incorrect.