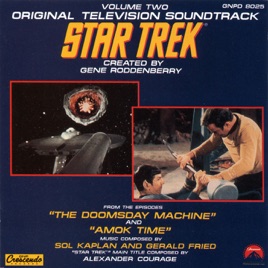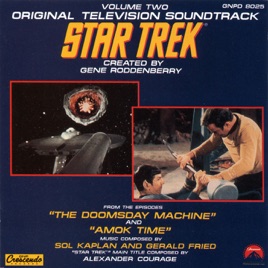 Star Trek, Vol. 2: The Doomsday Machine and Amok Time (Original Television Soundtrack)
Sol Kaplan
TITLE
TIME

Approach of Enterprise / The Constellation

Gerald Fried & Sol Kaplan

Gerald Fried & Sol Kaplan

Commander Matt Decker / The Crew That Was

Gerald Fried & Sol Kaplan

What Is Doomsday Machine / The Planet Killer

Gerald Fried & Sol Kaplan

Strange Boom / Decker Takes Over

Gerald Fried & Sol Kaplan

The New Commander / Light Beams / Tractor Beam

Gerald Fried & Sol Kaplan

Gerald Fried & Sol Kaplan

Spock Takes Command / Decker's Foil / Sneaky Commodore

Gerald Fried & Sol Kaplan

Gerald Fried & Sol Kaplan

Condolences / Power Drain

Gerald Fried & Sol Kaplan

Gerald Fried & Sol Kaplan

Gerald Fried & Sol Kaplan

Gerald Fried & Sol Kaplan

Gerald Fried & Sol Kaplan

Gerald Fried & Sol Kaplan

Gerald Fried & Sol Kaplan

Gerald Fried & Sol Kaplan

Gerald Fried & Sol Kaplan

Gerald Fried & Sol Kaplan

Gerald Fried & Sol Kaplan

The Ritual / Ancient Battle / 2nd Kroykah

Gerald Fried & Sol Kaplan

Remorse / Marriage Council II

Gerald Fried & Sol Kaplan

Resignation / Lazarus Return / Pig's Eye

Gerald Fried & Sol Kaplan
25 Songs, 52 Minutes
Released:

Sep 1, 1991

℗ 1991 GNP Crescendo Records
Ratings and Reviews
You...must...have...thisalbum...
OK listen up nerd boys and girls, this has got the Star Trek fight song- you know the one- everytime Kirk gets into a fist fight against some alien- this is song that they play- worth the price of download for that song alone
Space. The Final Frontier These are the Voyages of the Starship Enterprise.
This music... the music we all know defines the series itself not only creating affect
but memory. This awesome, stunning, impressive music is a must buy. Worth the price!
Star Trek, Vol. 2
This soundtrack warms the cockles of my fifty-one year old heart. These sounds (from two of the most well-known episodes--The Doomsday Machine and Amok time) are virtual time machines ready to transport any fan back to better times. This music with a phaser reproduction with sound effects in hand is near orgasmic.