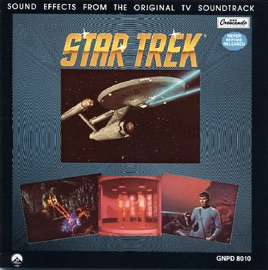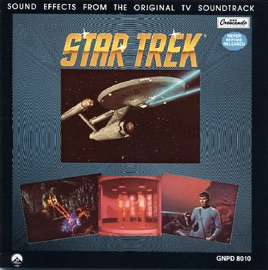 | | TITLE | | TIME |
| --- | --- | --- | --- |
| | Enterprise Bridge Sequence | | |
| | Enterprise Doors Open Into Corridor | | |
| | Enterprise Doors Open Into Transporter Room | | |
| | | | |
| | | | |
| | | | |
| | | | |
| | | | |
| | | | |
| | Materialization (In Trouble) | | |
| | | | |
| | Enterprise Doors Open Into Bridge | | |
| | | | |
| | | | |
| | Spock's Viewer On the Bridge | | |
| | | | |
| | | | |
| | Viewing Screen Magnification | | |
| | | | |
| | Enterprise Phasers Firing (3 Blasts) | | |
| | | | |
| | Photon Torpedo (3 Blasts) | | |
| | Phasers Striking Deflector Shields | | |
| | Stratos Torture Ray Bombardment | | |
| | Food and Drink Synthesizer | | |
| | | | |
| | Sickbay Scanner #2 (Heartbeats) | | |
| | | | |
| | | | |
| | Main Viewing Screen (Animated Series) | | |
| | | | |
| | | | |
| | Tribble Predator (Animated Series) | | |
| | | | |
| | | | |
| | | | |
| | Alien Planet Atmosphere #2 | | |
| | | | |
| | | | |
| | | | |
| | Garbled Communicator Static | | |
| | | | |
| | | | |
| | | | |
| | | | |
| | | | |
| | Subterranean Elevator (Long) | | |
| | Subterranean Elevator (Short) | | |
| | Garbled Radio Signal #3 (Animated Series) | | |
| | Engineering Room Interior | | |
| | | | |
| | Library Computer On Bridge | | |
| | | | |
| | Red Alert Klaxon (Animated Series) | | |
| | | | |
| | | | |
| | Warp Drive Malfunctioning | | |
| | Warp Drive Acceleration #2 | | |
| | Warp Drive Acceleration and Deceleration | | |
| | Transporter Dematerialization | | |
| | Transporter Materialization | | |
| | Hand Held Medical Scanner | | |
| | | | |
| | | | |
| | | | |
| | | | |
| | | | |
| | | | |
| | | | |
69 Songs, 39 Minutes
Released:

Sep 1, 1987

℗ 1987 GNP Crescendo Records
Ratings and Reviews
Amazing
What an amazing array of thoughtfully and carefully produced sound effects...a very rich assortment of sound effects to match the variety of scenes in the original series. This is just one part of what made the original Star Trek so incredible. Although the original series was not fully supported by the network, it managed to provide three seasons of wonderful stories, great characters, and classic lines which have stood the test of time. Just about everybody (in the U.S, at least) is intimately familiar with each of these sound effects. Good reason: they're inventive, appropriate, and terrific!
Great collection of classic Trek sound effects but...
but a little disappointed that these aren't available as iPhone ringtones.
A must have, for no reason
This is a great CD to own for absolutely no reason whatsoever, except to say you do.

Long Live Kirk