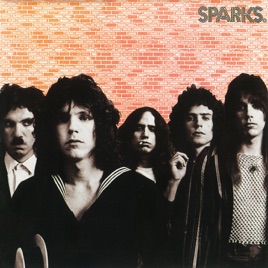 EDITORS' NOTES
When Todd Rundgren heard the first demo tape from Sparks—who were then called Halfnelson—he was the only person in the music industry to respond positively to this wacky group of UCLA art students. As a producer, Rundgren shared with brothers Russell and Ron Mael a love for English pop music, complex and witty arrangements, and all manner of studio experimentation. Hence, while Sparks' eponymous debut could have easily muted their idiosyncrasies, it instead forms a blueprint for all the colorful and creative mischief the Maels would build in the years to come. The wonderful thing about this album is that it contains all the theatrical energy of Sparks' later years, but within the context of what's still essentially a guitar rock album. You could draw a line from "Wonder Girls," "Roger," and "Slowboat" to T. Rex, David Bowie, and Queen, but there's something in Sparks that's at once stranger and brighter than those better-known acts. In a delightful way, the songs sound like the work of daffy scientists, but there are also instances of gloriously gritty rock 'n' roll, including the stunning closer, "(No More) Mr. Nice Guys."
EDITORS' NOTES
When Todd Rundgren heard the first demo tape from Sparks—who were then called Halfnelson—he was the only person in the music industry to respond positively to this wacky group of UCLA art students. As a producer, Rundgren shared with brothers Russell and Ron Mael a love for English pop music, complex and witty arrangements, and all manner of studio experimentation. Hence, while Sparks' eponymous debut could have easily muted their idiosyncrasies, it instead forms a blueprint for all the colorful and creative mischief the Maels would build in the years to come. The wonderful thing about this album is that it contains all the theatrical energy of Sparks' later years, but within the context of what's still essentially a guitar rock album. You could draw a line from "Wonder Girls," "Roger," and "Slowboat" to T. Rex, David Bowie, and Queen, but there's something in Sparks that's at once stranger and brighter than those better-known acts. In a delightful way, the songs sound like the work of daffy scientists, but there are also instances of gloriously gritty rock 'n' roll, including the stunning closer, "(No More) Mr. Nice Guys."
11 Songs, 40 Minutes
Released:

Dec 31, 1970

℗ 1972 Bearsville Records Inc. Marketed by Rhino Entertainment Company, a Warner Music Group Company
Ratings and Reviews
A classic, groundreaking, inspiring group
Sparks is responsible for so much and yet very little is attributed to them by the mainstream trend setters. With works dating all of the way back to 1971 and an impressive exploration of sounds and styles, this is by far one of their best pre-synth records competing with the arguably best: No. 1 Song In Heaven. It has such a delicious glam groove to it, that you may be reminded of T-Rex or Queen for a moment only to be delightfully shocked by the unusual slant the band can spin with a song. This record is a must for any audiophile and even though I have been able to transfer my vinyl recording of this album to digital, I highly recommend the purchase of this record and am grateful it is available on iTunes.
I still love it
I have 9 Sparks albums on vinyl that I haven't played since the 70s. And now I can't play as I have been too lazy to find a belt to replace the rotted one on my turntable. Yes, as I deteriorate, so do the things of my youth. I was afraid my love for this album had perhaps deteriorated also. Especially since I have been rocking and reconnecting to everything Emerson Lake and Palmer for the last few weeks Not so! Despite having it on vinyl, i went for the digital. I think I love it even more now as I am rediscovering the music I loved as a teen. Certainly not the best of musians at this point, and no match to the instrumental skills of ELP, but such originality and inventive song writing and vocals, just magic. A pure and unique sound like no other. And who else could come up with "Saccharin and the War"? Love it! Grateful my old vinyl has the lyrics on the liner. "Fletcher Honorama", "Slowboat", and of course, (No More) Mr. Nice Guys" among my favorites. I can detect, here and there, bits of what might be influences from other artists from that time, but they make this all their own. I'm sure my daughter, lover of all that bangs heads, would say "what the h...? Ha! A guilty pleasure? No. I am feeling no guilt in this pleasure.
I'm not going to suggest this is easy...
The band SPARKS is not a gentle ride
The only real and effective way to "Get It" is to download a few of their dics and just play them on repeat for a week - which is what my sister did with two SPARKS records in 1975 and through living room proximity osmosis I absorbed it (I was 10 years old)

It's been a fabulous journey ever since...
I would suggest getting these very excellent albums

1) SPARKS / SPARKS
2) Woofer in Tweeters Clothing
3) Kimono My House
4) No.1 in Heaven
5) Indiscreet

With that list you are on your way to devloping a wonderful long term relationship with an amazing band