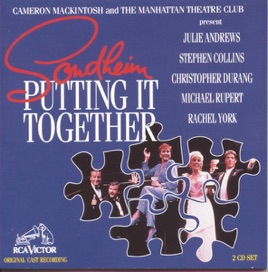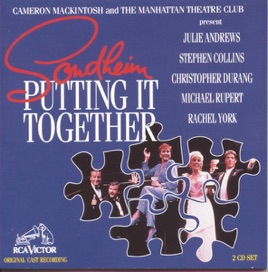 TITLE
TIME

Invocation and Instructions to the Audience (From the Frogs)

Christopher Durang

Putting It Together (From "Sunday In the Park With George")

Julie Andrews, Stephen Collins, Rachel York, Michael Rupert & Christopher Durang

Rich and Happy #1 (From "Merrily We Roll Along")

Stephen Collins, Julie Andrews, Michael Rupert, Christopher Durang & Rachel York

Merrily We Roll Along #1 (From "Merrily We Roll Along")/Lovely (From "a Funny Thing Happened On the Way to the Forum")

Christopher Durang & Rachel York

Everybody Ought to Have a Maid (From "a Funny Thing Happened On the Way to the Forum")

Stephen Collins, Christopher Durang & Michael Rupert

Julie Andrews, Stephen Collins, Michael Rupert, Rachel York, Christopher Durang & Scott Frankel

Hello, Little Girl (From "Into the Woods")

Stephen Collins & Rachel York

My Husband the Pig / Every Day a Little Death (From "a Little Night Music")

Julie Andrews & Rachel York

Merrily We Roll Along #2 (From "Merrily We Roll Along") /Have I Got a Girl for You? [From "Company"]

Christopher Durang, Stephen Collins & Michael Rupert

Pretty Women (From "Sweeney Todd")

Stephen Collins & Michael Rupert

Now (From "a Little Night Music")

Christopher Durang & Michael Rupert

Bang! (From "a Little Night Music")

Michael Rupert & Rachel York

Country House (From "Follies, 1987")

Julie Andrews & Stephen Collins

Merrily We Roll Along #3 (From "Merrily We Roll Along") / Could I Leave You? [From "Follies"]

Christopher Durang & Julie Andrews

Back In Business (From "Dick Tracy")

Unknown

Rich and Happy #2 (From Merrily We Roll Along)

Stephen Collins, Michael Rupert, Rachel York & Julie Andrews

Night Waltzes: Love Takes Time / Remember? / In Praise of Women / Prepetual Anticipation / The Sun Won't Set (From "a Little Night Music"--Stage and Film)

Christopher Durang, Michael Rupert, Julie Andrews, Rachel York & Stephen Collins

Christopher Durang, Julie Andrews, Stephen Collins, Rachel York & Michael Rupert

Game Sequence #2: A Little Priest (From "Sweeeny Todd")

Christopher Durang, Stephen Collins, Rachel York, Michael Rupert & Julie Andrews

The Miller's Son (From "a Little Night Music")

Rachel York

Live Alone and Like It (From "Dick Tracy")

Michael Rupert

Sorry-Grateful (From "Company")

Stephen Collins

Sweet Polly Plunkett (From "Sweeney Todd")

Julie Andrews

I Could Drive a Person Crazy (From "Company")

Christopher Durang

Marry Me a Little (From "Company")

Michael Rupert

Getting Married Today (From "Company")

Julie Andrews

Merrily We Roll Along #4 (from Merrily We Roll Along) / Being Alive (From "Company")

Christopher Durang, Stephen Collins, Michael Rupert, Julie Andrews & Rachel York

Like It Was (From "Merrily We Roll Along")

Julie Andrews

Old Friends / Merrily We Roll Along #5 (From "Merrily We Roll Along")

Stephen Collins
29 Songs, 1 Hour 30 Minutes
Released:

Sep 11, 1993

℗ 1993 BMG Music
Ratings and Reviews
Unforgettable experience!
I was incredibly lucky to be able to see a performance of this during its limited run at the Manhattan Theater Club back in March of 1993. Bernadette Peters sat a few rows in front of me. We were able to get tickets due to an incredible snow storm that shut down Manhattan and caused many theatergoers to miss the performance. The cast was spectacular and the weaving of songs into a new story was brilliant. Such a wonderful memory, and this album brings me back to that night in the theater!
One Of The Best Albums Out There!
This has to be one of the best albums I've ever come across. Who could be better than Julie Andrews, Rachel York, Stephen Collins, Christopher Durang, and Michael Rupert?! This is a superb cast and the music is stunning. A fantastic find and a must have for any true Broadway lover.