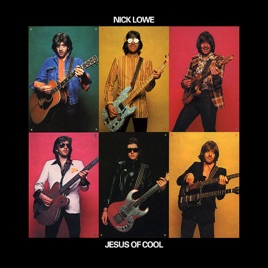 EDITORS' NOTES
Nick Lowe's first solo album, issued in the U.K. as Jesus of Cool and the U.S. as Pure Pop for Now People in 1978, re-invented the pub/ roots-rocker as a pop renaissance man. Recorded on the cheap for Jake Riviera's Radar Records, Cool played like a collection of quick, quirky hit singles that never were. "Music for Money" takes a cynical look at the music industry that until this point hadn't given Lowe much credit, though he was emerging as a much in-demand record producer for Elvis Costello, the Damned and the Pretenders. The profile of silent film star "Marie Provost" provides the eminently quotable chorus hook, "She was a winner who became a doggie's dinner," alongside swooning backing vocals and a smooth AM pop radio groove. Fidel Castro is castrated in "Nutted By Reality" and "Little Hitler" seems an almost normal topic of conversation. The modest funk of "I Love the Sound of Breaking Glass" suggests territory that New Wave groups like Talking Heads and Blondie would soon explore. The 2008 deluxe reissue includes a handful of gems. Sandy Posey's '60s pop lament "Born a Woman" is given an extra kick. "I Love My Label" (and his label loves him) is more cynically pure pop. "Rollers Show" parodies the Bay City Rollers. There's even an early version of Lowe's future hit "Cruel to Be Kind."
EDITORS' NOTES
Nick Lowe's first solo album, issued in the U.K. as Jesus of Cool and the U.S. as Pure Pop for Now People in 1978, re-invented the pub/ roots-rocker as a pop renaissance man. Recorded on the cheap for Jake Riviera's Radar Records, Cool played like a collection of quick, quirky hit singles that never were. "Music for Money" takes a cynical look at the music industry that until this point hadn't given Lowe much credit, though he was emerging as a much in-demand record producer for Elvis Costello, the Damned and the Pretenders. The profile of silent film star "Marie Provost" provides the eminently quotable chorus hook, "She was a winner who became a doggie's dinner," alongside swooning backing vocals and a smooth AM pop radio groove. Fidel Castro is castrated in "Nutted By Reality" and "Little Hitler" seems an almost normal topic of conversation. The modest funk of "I Love the Sound of Breaking Glass" suggests territory that New Wave groups like Talking Heads and Blondie would soon explore. The 2008 deluxe reissue includes a handful of gems. Sandy Posey's '60s pop lament "Born a Woman" is given an extra kick. "I Love My Label" (and his label loves him) is more cynically pure pop. "Rollers Show" parodies the Bay City Rollers. There's even an early version of Lowe's future hit "Cruel to Be Kind."
| | TITLE | | TIME |
| --- | --- | --- | --- |
| | | | |
| | I Love the Sound of Breaking Glass | | |
| | | | |
| | | | |
| | | | |
| | | | |
| | | | |
| | | | |
| | | | |
| | | | |
| | | | |
| | | | |
| | | | |
| | | | |
| | | | |
| | | | |
| | | | |
| | | | |
| | Cruel to Be Kind (Original Version) | | |
| | | | |
| | I Don't Want the Night to End | | |
21 Songs, 1 Hour 2 Minutes
Released:

Mar 1, 1978

℗ 2008 Yep Roc Records
Ratings and Reviews
PURE POP AT LAST!
I went to a record store the other day and bought all of Nick Lowes eighties albums. The guy at the counter said to me, have you heard Jesus Of Cool? And I said I wouldn't be buying ALL his other records if I hadn't. Nick Lowe is fantastic in every era, even producing The Damned, Wreckeless Eric and Elvis Costello, but Jesus of Cool was his announcement to the world that he was just that, an amazing lyricsist and pop craftsman, and THE JESUS OF COOL!
Power Pop at it's best!
What a great pop album with delightfully subversive lyrics. Featuring an all star cast of New Wave musicians, this album, originally released in '78, is full of gems that I can listen to over and over again.

You need to have this in your collection.


classic pure pop for now people
you have to have this album in your collection, it'smandatory.