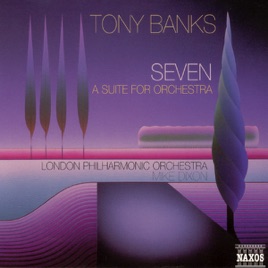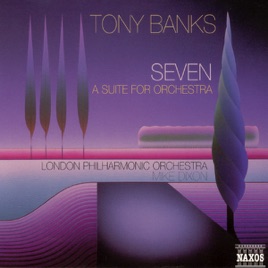 TITLE
TIME

Seven - A Suite for Orchestra: Spring Tide

London Philharmonic Orchestra

Seven - A Suite for Orchestra: Black Down

London Philharmonic Orchestra

Seven - A Suite for Orchestra: The Gateway

London Philharmonic Orchestra

Seven - A Suite for Orchestra: The Ram

London Philharmonic Orchestra

Seven - A Suite for Orchestra: Earthlight

London Philharmonic Orchestra

Seven - A Suite for Orchestra: Neap Tide

London Philharmonic Orchestra

Seven - A Suite for Orchestra: The Spirit of Gravity

London Philharmonic Orchestra
7 Songs, 57 Minutes
Released:

Apr 24, 2004

℗ 2004 Naxos
Ratings and Reviews
An outstanding suite that is imbued with Tony Banks.
If my title is awkward, that's just because I wanted -- respectfully but emphatically -- to disagree with the the previous reviewer. "Seven" bears the signature of Tony Banks in its romantic (yet always with that English sense of reserve and understatement) shadings of strings and woodwinds, in its audacious but sure-footed deployment of pedal tones, and in the sweeping cadences, in which expansive four-note chords collide and become enmeshed with one another.

If all of that sounds too technical (or pretentious), let me put it this way: the suite is wonderfully melancholic, at times serene, and at times, that Afterglow-esque mixture of yearning and mournful. I have come to surmise that among Tony Banks's many significant contributions to the music of Genesis is a kind of grim, stoic response to the inadequacies and limitations of the "real" world. I believe that this is what people mean when they say that his music has a "romantic" quality.

This is not to say that Banks's work is "escapist." A better characterization would be that it evokes the artist's strength of will and confidence of personal vision. My favorite is "Black Down": lush and powerful.

What you can hear Banks's work with Genesis as well as in "Seven" is a refusal to pander to the demand that the world places on an artist to create something mediocre, whether the demand comes from idiot critics who don't listen carefully and are merely interested in identifiable "genre" labels or from the clamor for music that fits a cookie-cutter formula. In other words: Tony has never lost his sense of taste. It has only matured over time, and "Seven" demonstrates the taste of a wise yet dynamic composer.

The success of Genesis in the 80s coincided with a more "pop" sound, but many fans (or students...) of the band know that the designation "pop" belies the craftsmanship, emotionality and inner-complexity (not a show-offy complexity!) that was truely without parallel among their chart-topping peers. Much of this quality is a result of Tony Banks's indefatigable refusal to produce cliches. (I mean, even the band's ostensibly "poppyist" stuff, like "Illegal Alien" is filled to the brim with amazing ideas, colors, rhythms, tones, hooks, key changes surprises.)

Anyway, I would encourage most anyone to purchase this album, and I would do so with even greater confidence to anyone who loves anything about Genesis, including ANY of its various different line-ups. There's something for you here. It might take a couple of listens, but it's well worth it. Tony Banks is a musical genius who first-and-foremost has great taste.

My favorite movement is definitely "Black Down." Lush, dark and powerful.
Tony Banks, where art thou?
Interesting that iTunes doesn't mention this work's creator, Tony Banks, except on the artwork. As only a casual listener of orchestral instrumental music, to me this album is a pleasant, pastoral work. It does bear more resemblance to orchestral movie soundtracks moreso than the few dedicated orchestral works with which I am familiar.

Occasionally I hear faint hallmarks of Tony's melodies and phrasing, but if this had been played without my knowing it, I doubt I would have recognized it as his. As a long time fan of his keyboard playing and songwriting with Genesis, and familiar with his solo work, this to me is an interesting departure, certainly seeming to fulfill a creative urge for Tony.