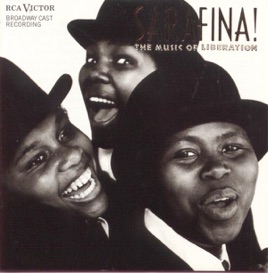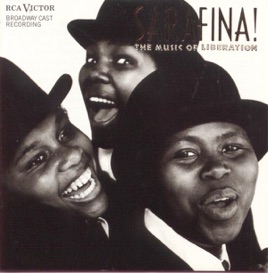 TITLE
TIME

Sarafina! Band & Ndaba Mhlongo

Sarafina! Ensemble, Mhlathi Khuzwayo, Nhlanhla Ngema & Hugh Masekela

Ntombkhona Dlamini, Sarafina! Ensemble, Siboniso Khumalo & Baby Cele

Yes, Mistress It's a Pity

Cosmas Sithole, Sarafina! Ensemble, Baby Cele & Hugh Masekela

Ntombkhona Dlamini, Sarafina! Ensemble, Thandani Mavimbela, Thandi Zulu & Thandekile Nhlanhla

Freedom Is Coming Tomorrow

Ntombkhona Dlamini & Sarafina! Ensemble

Sarafina! Band & Ndaba Mhlongo

Sarafina! Ensemble, Thandekile Nhlanhla & Hugh Masekela

Sarafina! Ensemble & Thandi Zulu

Sarafina! Ensemble, Siboniso Khumalo & Thandekile Nhlanhla

Sarafina! Ensemble & Thandani Mavimbela

Ntombkhona Dlamini, Sarafina! Ensemble, Thandekile Nhlanhla & Baby Cele

Sarafina! Ensemble & Hugh Masekela

Sarafina! Ensemble & Thandani Mavimbela

Thandi Zulu & Hugh Masekela

Africa Burning in the Sun

Sarafina! Ensemble & Hugh Masekela

Sarafina! Ensemble & Thandani Mavimbela

Bring Back Nelson Mandela

Sarafina! Ensemble, Leleti Khumalo & Hugh Masekela

Freedom Is Coming Tomorrow (Reprise)

Ntombkhona Dlamini & Sarafina! Ensemble
23 Songs, 1 Hour 12 Minutes
Released:

Mar 27, 1989

℗ 1994 Sony Music Entertainment
Ratings and Reviews
Amazing! Check out the original Sarafina!
If you love South African music, and you care to invest in music that was written with strong meaning and for people who have and are struggling.... please buy this album and enjoy!
Incredible soundtrack from the orginal play
The orginal musical ran off broadway and was so powerful. This is the soundtrack from that production. An amazing production and amazing album. Nelson Madela was still in prison when these young people set out to tell the story of South Africa. The music from the play was 100% more powerful than the Move that was later filmed with Woopie Goldberg.