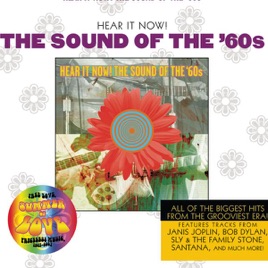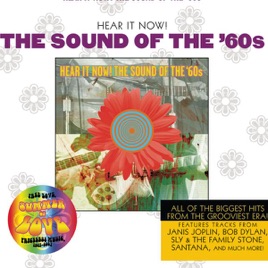 Hear It Now! The Sound of the '60s
Various Artists
TITLE
TIME

Turn! Turn! Turn! (To Everything There Is a Season)

The Byrds

I Want to Take You Higher

Sly & The Family Stone

Spinning Wheel (Single Version)

Blood, Sweat & Tears

Subterranean Homesick Blues

Bob Dylan

San Francisco (Be Sure to Wear Flowers In Your Hair)

Scott McKenzie

Paul Revere & The Raiders

Black Magic Woman / Gypsy Queen

Santana

Big Brother & The Holding Company
14 Songs, 49 Minutes
Released:

Feb 23, 1999

℗ Originally Released 1964 Monument Records, 1969 T-Neck Records, 1964, 1965, 1966, 1967, 1968, 1969, 1970 Sony Music Entertainment Inc., (P) 1999 Sony Music Entertainment Inc.
Ratings and Reviews
San Francisco
Flowers or not San Francisco was never the same since the 60's and neither has this World, believe me NOT all the changes were good.
There was nothing like the 60's
I have to say, there was nothing like the 60's. No one had felt or look at or wrote music the way people did then. It was clearly a time of expression (despite the heavy use of drugs). Yet, I really like how this album put together some of the greatest bands of the time. Two of my favorite singers (Bob Dylan and Janis Joplin) are on on the album as well as other awesome bands and singers. This is a great album for any 60's fans out there and I would highly reccomend it.
love it
it's weird, I'm 12 and I love these songs. the movie ForrestGump brought me here :3