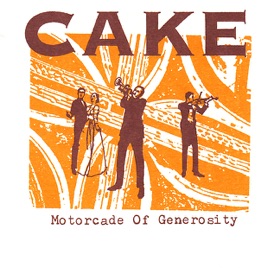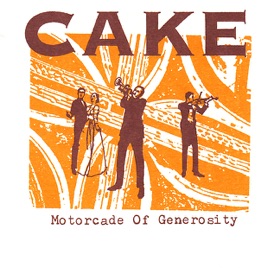 Motorcade of Generosity
Cake
| | TITLE | | TIME |
| --- | --- | --- | --- |
| | | | |
| | | | |
| | | | |
| | | | |
| | | | |
| | | | |
| | | | |
| | | | |
| | Jesus Wrote a Blank Check | | |
| | | | |
| | | | |
| | | | |
| | | | |
13 Songs, 43 Minutes
Released:

Feb 7, 1994

℗ 2008 Upbeat Records
Ratings and Reviews
Maybe the Best Alternative Album Ever
This is the first full lengh disc from Cake... Absolutely amazing song-writing with catchy music. I've never heard anything like this record before, and doubt I will again.
Album Hi-lights include
Jolene - this hypnotic balllad is better live, but still extremely powerful.
You Part The Waters - The Chorus hits so hard it hurts.
I Bombed Korea - An ironic tune with beautiful imagery wrapped around a horific experience by the narriator.
Cake Owns
cake is one of the most original bands out there. buy this album, you won't regret it. plus its only 8 dollars.
Let them eat CAKE!
Great album, and extra props to CAKE for being ECO-FRIENDLY! -- The actual copy of this album is "Printed on 100% recycled paper with non-toxic vegetable dyes"