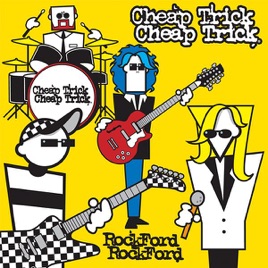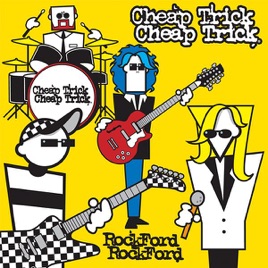 | | TITLE | | TIME |
| --- | --- | --- | --- |
| | | | |
| | | | |
| | | | |
| | | | |
| | | | |
| | | | |
| | | | |
| | | | |
| | Every Night and Every Day | | |
| | | | |
| | | | |
| | | | |
12 Songs, 41 Minutes
Released:

Jun 6, 2006

℗ 2006 Big 3 Records
Ratings and Reviews
100% Cheap Trick.
I'm a 38 year old male whose ears came alive when at age 10 I first heard the "Budokan" version of "I Want You To Want Me." If I recall, it took just one allowance later to get to DJ's Sound City and purchase the 45-rpm single. Cheap Trick was the sound of 1979, and in the years since that "discovery," I have watched Cheap Trick do it all. Great albums, so-so albums, pandering albums (see the late '80s), and one magnificent comeback in "Cheap Trick (1997)." It's hard to believe that Cheap Trick is still making such consistent music after all the years, but here they are in 2006 releasing "Rockford," one great Cheap Trick album.

Why isn't it a bigger deal that this is the same Cheap Trick that released "Budokan" in 1979? How is it that Cheap Trick is rarely mentioned in the same breath as Aerosmith or the Rolling Stones, other bands with legendary longevity? Doesn't Cheap Trick deserve special mention for weathering the years with the same line-up, no break-ups, no crash and burn? In light of this great album it seems a crime that Cheap Trick isn't more revered by critics and fans alike.

Are you wondering if Cheap Trick still has it? I'd suggest you download "Come On Come On Come On Come On" for one swift answer. Robin Zander sounds great, as do the gentlemen he fronts. Cheap Trick rock no differently, just as perfectly as they always have. It took me 28 years but I finally realize that Cheap Trick is a Great American Rock Band, and deserves all the accolades the Great American Rock Band is bestowed.
Great album. Best in Years! Glad to see you guys back...
I tried to download the album on itunes but it was nowhere to be found. Then while looking at the Cheap Trick site I saw they were at the Best Buy in Schaumburg which is the next town over. Stood in line and talked to the guys for the first time since 1979 when I saw them at Alpine Valley. They are the same cast of characters. Glad to see Rick shaved the beard off. I listened to the autographed CD and it really felt like they have created some new classics. Look forward to seeing them live at Summerfest and Ravinia this year. BUY THIS ALBUM! You will be happy you did so. Buy the Silver Album also. It is the next best live album since the original Budokan Live.

Robin if you are reading this, Please have Holland perform Time Will Let You Know with you at Summerfest. Rick, Bun, Tom help make it happen. Cheap Trick should re-release this great Robin Zander song.
Cheap Trick proves they are America's Greatest Rock Band!
Cheap Trick's latest, Rockford, is their strongest collection since Heaven Tonight. I do not say this lightly.

Cheap Trick have put out close to 10 (Dream Police, All Shook Up, One On One, NPP, Standing on the Edge, Lap of Luxury, Woke Up With a Monster and 1997 ) four star albums, since then. Yet, this is by far their best collection in years. A Five Star effort.

Rockford puts it all together. Robin Zander is america's premiere Rock 'n' Roll singer, second to none. Rick Nielsen is a great songwriter and axewielder. Tom Petersson's Bass lines are unique and keep the beat along with Bun E's fantastic drumming. These guys are putting on a Rock 'N' Roll clinic for all of you who want to create great music.

Rock N' Roll Hall of Fame take notice. Cheap Trick is a still putting out GREAT music. I urge everybody to buy this album and dare you to tell me they are not America's greatest living Rock Band.