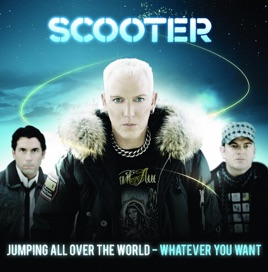 TITLE
TIME

Jumping All Over the World

The Question Is What Is the Question?

Lighten Up the Sky (New Version)

Was kostet der Fisch? (How Much Is the Fish?)

K.I.Z

Beweg dein Arsch (Move Your Ass)

Sido, Scooter, Kitty Kat & Tony D

Modeselektor & Otto Von Schirach

Jump That Rock (Whatever You Want) [Radio Edit]

Scooter & Status Quo

Posse (I Need You On the Floor)

Jump With Me (Radio Edit)

Sheffield Jumpers
41 Songs, 2 Hours 34 Minutes
Released:

Oct 3, 2008

℗ 2008 Sheffield Tunes
Ratings and Reviews
Better than Viagra!
Not only is a perfect techno rave album to dance and workout to but it is the best album to make with the hot pumping lovemaking to!
ONLY $12?!
This album is a steal! If you have never heard of Scooter before I would HIGHLY RECOMEND THIS. The album contains all of the band's best music from now to way back when in 1994. And for those of you more hardcore fans I think al lot of the new tracks are really good as well. I especialy enjoyed the new take on Weekend.
Posse...I need you on the Floor!
Scooter has been around forever, and across the myriad of albums they've put out since 1994 - they've never changed their sound, updated their style or subsequently... stopped being totally awesome. Scooter tunes are deeply rooted in the high-octane, old school European house/rave sounds of yesterday, and while that may make them corny beyond belief...Thank God They're Still Doing It. Been a Scooter fan for over 10 years now, and these Jams never get old.

You gotta love 'em. From the KLF references, the ridiculous "rhymes," the random happy hardcore'd samples, and the obnoxious beats, there just isn't anything quite like a good old-fashioned Scooter Jam. If you are fan of Scooter then you should own all these songs already, but you'll want the extras. If you aren't a Scooter nut yet, then download this bad boy and prepare to want to jump around the room for no reason. For a mere $12 it just doesn't get any better than this.