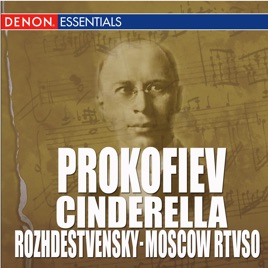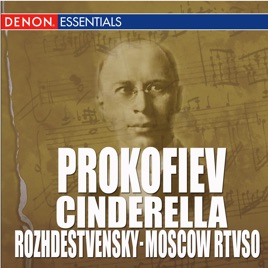 | | TITLE | | TIME |
| --- | --- | --- | --- |
| | Cinderella, Op. 87, Act I: No. 1, Introduction: Andante Dolce | | |
| | Cinderella, Op. 87, Act I: No. 2, Shawl Dance - Allegretto | | |
| | Cinderella, Op. 87, Act I: No. 3, Cinderella | | |
| | Cinderella, Op. 87, Act I: No. 4, the Father | | |
| | Cinderella, Op. 87, Act I: No. 5, the Fairy Godmother | | |
| | Cinderella, Op. 87, Act I: No. 6, the Sisters' New Clothes | | |
| | Cinderella, Op. 87, Act I: No. 7, the Dancing Lesson | | |
| | Cinderella, Op. 87, Act I: No. 8, Departure of the Stepmother and Sisters to the Ball | | |
| | Cinderella, Op. 87, Act I: No. 9, Cinderella Dreams of the Ball | | |
| | Cinderella, Op. 87, Act I: No. 10, Gavotte | | |
| | Cinderella, Op. 87, Act I: No. 11, Second Appearance of the Fairy Godmother | | |
| | Cinderella, Op. 87, Act I: No. 12, the Spring Fairy | | |
| | Cinderella, Op. 87, Act I: No. 13, the Summer Fairy | | |
| | Cinderella, Op. 87, Act I: No. 14, Grasshoppers and Dragonflies | | |
| | Cinderella, Op. 87, Act I: No. 15, the Autumn Fairy | | |
| | Cinderella, Op. 87, Act I: No. 16, the Winter Fairy | | |
| | Cinderella, Op. 87, Act I: No. 17, the Interrupted Departure | | |
| | Cinderella, Op. 87, Act I: No. 18, the Clock - Allegro Moderato | | |
| | Cinderella, Op. 87, Act I: No. 19, Cinderella's Departure for the Ball | | |
| | Cinderella, Op. 87, Act II: No. 20, Dance of the Courtiers - Andante Grazioso | | |
| | Cinderella, Op. 87, Act II: No. 21, Passepied | | |
| | Cinderella, Op. 87, Act II: No. 22, Bouree | | |
| | Cinderella, Op. 87, Act II: No. 23, Skinny's Variation | | |
| | Cinderella, Op. 87, Act II: No. 24, Dumpy's Variation | | |
| | Cinderella, Op. 87, Act II: No. 25, Dance of the Courtiers (reprise) | | |
| | Cinderella, Op. 87, Act II: No. 26, Mazurka and Entrance of the Prince | | |
| | Cinderella, Op. 87, Act II: No. 27, Dance of the Prince's Four Companions | | |
| | Cinderella, Op. 87, Act II: No. 28, Mazurka - Allegro Ma Non Troppo | | |
| | Cinderella, Op. 87, Act II: No. 29, Cinderella's Arrival At the Ball - Allegretto - Andante | | |
| | Cinderella, Op. 87, Act II: No. 30, Grand Waltz | | |
| | Cinderella, Op. 87, Act II: No. 31, Promenade | | |
| | Cinderella, Op. 87, Act II: No. 32, Cinderella's Dance | | |
| | Cinderella, Op. 87, Act II: No. 33, Dance of the Prince | | |
| | Cinderella, Op. 87, Act II: No. 34, Refreshments for the Guests - Moderato | | |
| | Cinderella, Op. 87, Act II: No. 35, Duet of the Sisters With the Oranges - Allegro Con Brio | | |
| | Cinderella, Op. 87, Act II: No. 36, Duet of the Prince and Cinderella | | |
| | Cinderella, Op. 87, Act II: No. 37, Waltz-Coda - Allegro Espressivo | | |
| | Cinderella, Op. 87, Act II: No. 38, Midnight - Allegro Moderato | | |
| | Cinderella, Op. 87, Act III: No. 39, the Prince and the Cobblers | | |
| | Cinderella, Op. 87, Act III: No. 40, First Galop of the Prince - Presto | | |
| | Cinderella, Op. 87, Act III: No. 41, Temptation - Moderato - Allegretto | | |
| | Cinderella, Op. 87, Act III: No. 42, Second Galop of the Prince - Presto | | |
| | Cinderella, Op. 87, Act III: No. 43, Orientalia - Andante Dolce | | |
| | Cinderella, Op. 87, Act III: No. 44, Third Galop of the Prince | | |
| | Cinderella, Op. 87, Act III: No. 45, Cinderella's Awakening | | |
| | Cinderella, Op. 87, Act III: No. 46, the Morning After the Ball - Allegretto Capricioso | | |
| | Cinderella, Op. 87, Act III: No. 47, the Prince's Visit - Vivace | | |
| | Cinderella, Op. 87, Act III: No. 48, the Prince Recognizes Cinderella - Adagio Passionato | | |
| | Cinderella, Op. 87, Act III: No. 49, Waltz - Adagio | | |
| | Cinderella, Op. 87, Act III: No. 50, Amoroso - Andante Dolcissimo | | |
50 Songs, 1 Hour 47 Minutes
Released:

Sep 16, 2008

℗ 2008 SLG, LLC
Ratings and Reviews
Superb Cinderella
This is a superb and animated version and I am conflicted over whether this version or the Ashkenazy - Cleveland is my favorite. My only reservation is the recording quality. The recording is a bit distant sounding whereas the Ashkenazy is close miked and crisp. The playing is superb as it is on the Ashkenazy. I am very glad I have both!
Beautifully executed
Great quality and completeness!
luv it!
i luv this music! i was in this performance for the atl ballet and its the same music! its awesome!!!