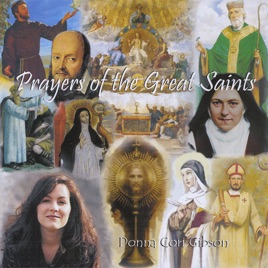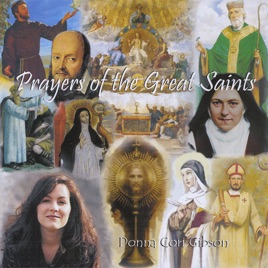 | | TITLE | | TIME |
| --- | --- | --- | --- |
| | Most High and Glorious God - St. Francis | | |
| | | | |
| | Pour Your Love On Me - St. Basil | | |
| | When I Lift Up My Heart - What Goes On During Mass | | |
| | 1000 Souls - St. Gertrude the Great | | |
| | | | |
| | Bookmark (God Alone) - St. Teresa of Avila | | |
| | Only Today - St. Therese of Lisioux | | |
| | Thy Will Be Done - St. Francis de Sales | | |
| | Breastplate of St. Patrick | | |
| | | | |
| | | | |
12 Songs, 49 Minutes
Released:

Dec 31, 2001

℗ 2002 Golden Arrow Catholic Music
Ratings and Reviews
Simply Love captured in an Angelic voice!
I love Donna Cori Gibson! Her voice has been a source of comfort from the first time I heard it, so long ago on Life on The Rock. Since then my parish has been blessed to have her in concert, a must have if your wondering!!! She performs from the depths of her soul! My husband and I hosted her for 5 days, and she truly is filled with Gifts of The Holy Spirit! Thank you Donna for your yes to God's call. You evangelize most wonderfully with your music!
One of the best Catholic singers out there!
I bought this album thinking it would be "cute." Wow, was I wrong! These prayers of the saints (set to music) are POWERFUL! Ms. Gibson's voice is perfect on each song -- soaring and powerful on the up-tempo pieces and gentle and worshipful on the ballads. The repetition of hearing the songs helps one memorize the words, and eventually these prayers become your own. "Thy Will Be Done" is one of the best, but every track is a joy to hear.

If you enjoy Ms. Gibson's work, I also recommend Danielle Rose, who is an orthodox Catholic with a terrific voice.

Now, if iTunes will just offer some more of Ms. Gibson's albums. . . . . !
DONNA IS BLESSED
WHAT A VOICE, DONNA CORI GIBSON SINGS WITH HER HEART. I WISH ITUNES WOULD HAVE MORE OF HER ALBUMS SHE SINGS THE HAIL MARY LIKE NO OTHER