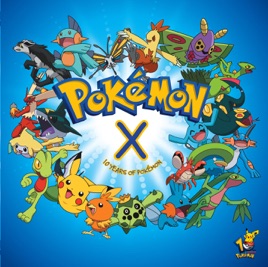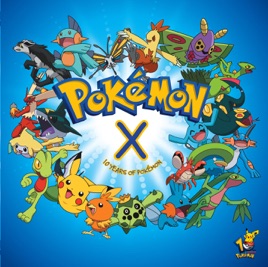 Pokemon X - 10 Years of Pokemon
Pokémon
13 Songs, 36 Minutes
Released:

Mar 27, 2007

℗ 2006 KOCH Records
Ratings and Reviews
P-o-k-e-m-o-n Pokemon!
I so love this album! :-) I like the Battle Frontier,Pokerap,and Pokerap GS the best.People who say Pokemon is stupid are just being stupid themselves because I can tell you 3 years ago nobody in the school was cool without a deck of Pokemon cards, a t-shirt, and some movies and shows on tape :-) so really it still rocks :-) GO PICHU AND CHARIZARD!!!!
Pokemon Never Gets Old
I don't know how people can say that Pokemon is out-dated or stupid. You can't hate Pokemon. They are a classic children's show!!! Everyone has watched it and knows that they loved it a one point in their lives. It is a franchise that will probably go on for some very successful years. Pokemon X is a sort of "tribute" to the Pokemon series. It is a CD of some favorites of songs, old and new. Pokemon, Pokemon, Pokemon!
Pokemon X-Ten Years of Pokemon
Pokemon has always been a great childrens show. The main character (Ash) has been through many adventures in places like Johto and the Battle Frontier. This album has some of the most famous Pokemon music from the first season to the Battle Frontier and Pokemon Chronicles. It has songs like the original Pokerap, Together Forever, Born to be a Winner, and newer songs like Stay Together and Go Pokemon Go. Anyone that has enjoyed Pokemon as kid or is still enjoying it to this day will enjoy this album.