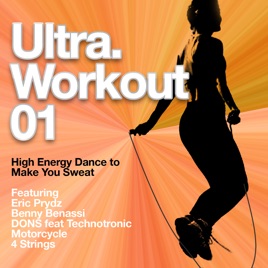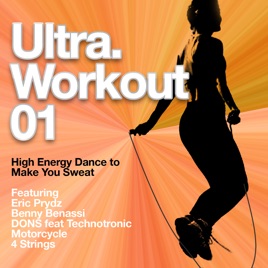 Ultra: Workout 01
Various Artists
TITLE
TIME

Pump It Up (Extended Mix)

Danzel

Call On Me (Eric Prydz Vs Retarded Funk Mix)

Eric Prydz

Shine (The Lovefreekz Club Mix)

The Lovefreeks

Out of Touch (Full Vocal Radio Edit)

Uniting Nations

Until You Love Me (Valentin Mixshow Edit)

4 Strings

Pump Up the Jam (D.O.N.S. Club Mix)

D.O.N.S. & Technotronic

Satisfaction (Isak Original Mix)

Benny Benassi & The Biz

Lola's Theme (Extended Vocal Mix)

Shape UK

As the Rush Comes (Radio Edit)

Motorcycle

Ma Ya Hi (Dragostea Din Tei) [Numa Numa Mix]

Dan Balan
11 Songs, 56 Minutes
Released:

Jun 21, 2005

℗ 2005 Ultra Records, Inc.
Ratings and Reviews
Good mix
The mixes here of Call on Me, Satisfaction, Pump up the Jam, Shine, Until You Love Me, and As the Rush Comes are very good. There's only one thing stopping me from giving this 5 stars: Ma Ya Hi. It isn't the version used in the Numa Numa video; In fact, it's the subpar remix done by Valentin. Plus, it's in english. Takes all the fun out of the original. Other than that blemish, which you won't find until the end of the album, this is an above average mix.
READ THIS BEFORE YOU BUY ANY SONG ON THIS!!!
Ma ya hi is so0o0o0o0o0o FAKE!
Type in Dragostea Din Tei by O-ZONE to get the real one!!!!!
I would give it 0 stars if it was an option!!!!

The Perfect Music
If you have been searching for the perfect high-energy mix to keep you moving through your exercises energenitically without being distracted by the clock, this is it. The hour goes by like twenty minutes with this blend of fabulous, slickly produced remixes of familiar favorites! Prepare to sweat!