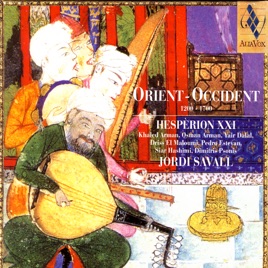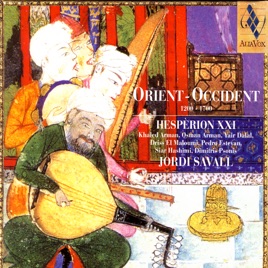 | | TITLE | | TIME |
| --- | --- | --- | --- |
| | Makam Rast "Murass'a" Usul Düyek (Turquie, Mss. de Kantemiroglu) | | |
| | Ductia (Cantigas 248-353) (Alfonso X el Sabio, 1221-1284) | | |
| | A la una Yo Nací (Sefarad / Sarajevo) | | |
| | Alba (Castelló de la Plana, Espagne) | | |
| | Danse de L'Âme (Maroc / Driss el Maloumi) | | |
| | Istampitta: la Manfredina (Italia: Trecento Mss.) | | |
| | Laïli Djân (Afghanistan, Perse) | | |
| | Istampitta: In Pro (Italia: Trecento Mss.) | | |
| | Danza del Viento (Sefarad / Bereber, Algérie) | | |
| | Istampitta: Saltarello I (Italia: Trecento Mss.) | | |
| | Chahamezrab (Perse / Dimitris Psonis) | | |
| | Danza de las Espadas (Galicia, S.XIII, Espagne) | | |
| | Makam Nikriz Üsul Berevsân (Turquie, Mss. de Kantemiroglu) | | |
| | Istampitta: Saltarello II (Italia: Trecento Mss.) | | |
| | Ya Nabat Elrichan - Magam Lami (Judeo-Iraquienne / Yair Dalal) | | |
| | Rotundellus (Cantiga 105) (Alfonso X el Sabio) | | |
| | Makam Rast Semâ'I (Turquie, Mss. de Kantemiroglu) | | |
| | Istampitta: Lamento Di Tristano (Italia: Trecento Mss.) | | |
| | Molâ Mâmad Djân (Afghanistan, Perse) | | |
| | Saltarello (Cantigas 77-119) (Alfonso X el Sabio) | | |
| | Makam 'Uzäl Sakil "Turna" (Turquie, Mss. de Kantemiroglu) | | |
21 Songs, 1 Hour 15 Minutes
Released:

Jan 1, 2006

℗ 2006 Alia Vox
Ratings and Reviews
Stunning
A stunningly beautiful album of instrumental works: East meets West. Unbelievable that this is the first review here when this album has been out for four years. Anyone who appreciates instrumental music, "classical" music, and "world" music should buy this. Highest recommendation. Subtle and thoughtful performances, measured between passion and restraint.
Buy It!
Awesome album for studying, reading, driving or when you really want to hear some good instrumental music! Amazing compositions that pull from all sorts of cultures and time periods. Highly recommend
Serendipity
Instrumental music for you and your horse to meditate, dance and align with each other. Magical!
I can't believe I happened upon this beautiful ensemble.