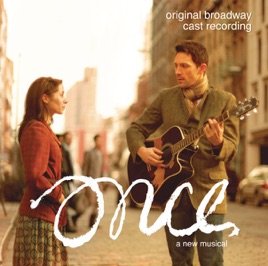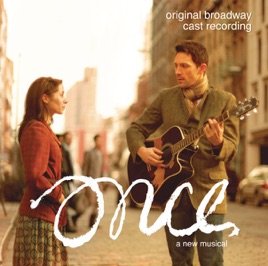 TITLE
TIME

Steve Kazee, Cristin Milioti & Once Ensemble

Will Connolly & Once Ensemble

Elizabeth A. Davis, Will Connolly, Cristin Milioti, Anne L. Nathan & Lucas Papaelias

Cristin Milioti & Once Ensemble

Broken Hearted Hoover Fixer Sucker Guy

Steve Kazee

Steve Kazee & Once Ensemble

Steve Kazee & J. Michael Zygo

Steve Kazee, Cristin Milioti & Once Ensemble

Chandler's Wife (Bonus Track) [iTunes Bonus Track]

David Abeles & Once Ensemble
17 Songs, 50 Minutes
Released:

Mar 13, 2012

℗ 2012 Sony Music Entertainment
Ratings and Reviews
one of the best shows i've seen in ages
i had the pleasure of catching this adaptation of the indie film at the new york theatre workshop and was deeply moved and blown away. i had liked the film, not loved, and was more interested in the details of what and how they chose to move it to stage than expecting it to be very successful. fortunately it is the rare (if ever?!) adaptation from screen to stage that rises above the original source material --due to the incredible creative team and also largely to the amazing leads. it's moved to broadway now --if you can, see it before either of them are replaced. they're terrific. i wept.
...You guys know that much better versions of ALL of these songs already exist, right?
I'm not even going to touch on the fact that the stage version of this show apparently removes every bit of nuance and poise from a film that was almost pure, distilled subtlety. (This coming from a big fan of musical theatre)

I'm just going to focus on the fact that this is essentially a cover album, where none of the covers come close to matching the quality of the original work. The songs on the first Swell Season album (as well as the soundtrack for the film) were written and performed by two musicians actually falling in love with each other while filming a movie about two musicians writing music and falling in love with each other. That really comes through in the original songs, and provides for not only one of the best albums of the last decades, but one of the most outstanding film soundtrack albums of all time. It's intimate, beautiful and heart-rending all at once.

What this gives us, on the other hand, is a crass re-appropriation of those same songs by people thirty steps removed from the original. These versions are loud, over-annunciated parodies of the original songs, and just feel cold in comparison.

This isn't an attack on the other people who have given the album 5-star reviews, either; I get why they gave the album glowing reviews, because they ARE beautiful songs. However, I can only assume that this is their first time experiencing them, and they don't know that they're listening to sub-par renditions.

But don't just take my word for it: You can find the real songs (found either by "The Swell Season" or "Glen Hansard and Marketa Irglova") on iTunes and see for yourself.
Beautiful music for a beautiful show.
I had the experience of seeing this show on Broadway, and it was absolutely wonderful. The actors had a sense of authenticity that I admired. The music was so beautiful! Definitely a great purchase.