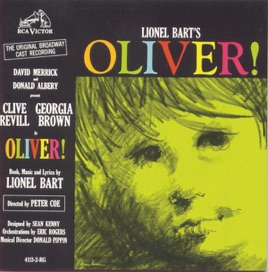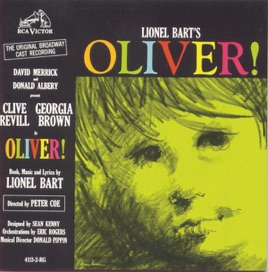 TITLE
TIME

Overture / Food, Glorious Food

Oliver! Orchestra, Oliver! Ensemble & Donald Pippin

Oliver! Ensemble, Willoughby Goddard, Hope Jackman & Bruce Prochnik

Hope Jackman & Willoughby Goddard

Boy for Sale / Where Is Love?

Willoughby Goddard & Bruce Prochnik

Oliver! Ensemble, Michael Goodman & Bruce Prochnik

You've Got to Pick a Pocket or Two

Oliver! Ensemble, Clive Revill & Bruce Prochnik

Oliver! Ensemble, Georgia Brown & Alice Playten

Michael Goodman, Georgia Brown, Oliver! Ensemble, Bruce Prochnik, Alice Playten & Clive Revill

Oliver! Ensemble, Clive Revill, Michael Goodman & Bruce Prochnik

Oliver! Ensemble & Georgia Brown

Oliver! Ensemble & Danny Sewell

Oliver! Ensemble & Bruce Prochnik

As Long As He Needs Me (Reprise)

Georgia Brown

Reviewing the Situation (Reprise)

Clive Revill
17 Songs, 55 Minutes
Released:

Aug 1, 1989

℗ 1989 BMG Entertainment
Ratings and Reviews
Oliver!
Oliver! is such an amazing musical, with the best score of any musical I have ever participated in. This recording is the best one out their, and I would highly recommend it to anyone who wants to buy it. It is especially helpful if you are in the musical for rehearsals.
Only complaint- "That's Your Funeral" and "It's a Fine Life- Reprise" from Oliver! are not included on this CD, but you can buy other versions on iTunes of those songs.
OLIVER!
Worth the price of the album for Georgia Brown's (Nancy) performance alone, this album contains performances by all that feature the grittiness of Dicken's original characters as well as moving and entertaining vocal perfomances which enhance Lionel Bart's music. The brilliant acting shines throughout the singing. You sense the complete story through just the songs with no need of hearing the dialogue. This recording of OLIVER! is a nice addition to any Broadway Musical library in that it fills the void of a Broadway Era long gone by.
It's A Fine Life!
I grew up with this album playing at home literally every day when I was a kid. My parents visited New York City five times a year for medical conventions, because my father was a doctor. They used to go to musicals on Broadway, and they would bring home soundtrack albums, and this has always been my favorite. I also saw the movie. I am glad that Charles Dickens wrote the book, because it raised awareness required to enact child labor laws and improved conditions for children.