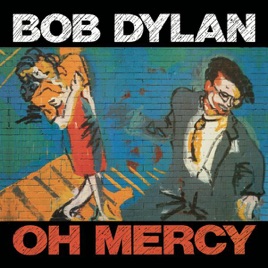 EDITORS' NOTES
This 1989 album benefited greatly from producer Daniel Lanois' swamped-up and cinematic New Orleans groove. From the stuttering opening chords of "Political World" to the noirish slow-burn "Man in the Long Black Coat," it's also obvious that Bob Dylan's updated sound dovetailed with fresh songwriting inspiration. Some of it has an alluringly eerie edge too, like the literate, piano-led "Ring Them Bells" and sullen heartbreaker "Most of the Time." The album stays in your head long after the harmonica-stoked last chords of the melancholic-yet-hopeful closer, "Shooting Star."
EDITORS' NOTES
This 1989 album benefited greatly from producer Daniel Lanois' swamped-up and cinematic New Orleans groove. From the stuttering opening chords of "Political World" to the noirish slow-burn "Man in the Long Black Coat," it's also obvious that Bob Dylan's updated sound dovetailed with fresh songwriting inspiration. Some of it has an alluringly eerie edge too, like the literate, piano-led "Ring Them Bells" and sullen heartbreaker "Most of the Time." The album stays in your head long after the harmonica-stoked last chords of the melancholic-yet-hopeful closer, "Shooting Star."
| | TITLE | | TIME |
| --- | --- | --- | --- |
| | | | |
| | | | |
| | | | |
| | | | |
| | Man In the Long Black Coat | | |
| | | | |
| | | | |
| | | | |
| | | | |
| | | | |
10 Songs, 38 Minutes
Released:

Sep 12, 1989

℗ 1989 Sony Music Entertainment Inc.
Ratings and Reviews
Oh Mercy
Having listened to Bob Dylan since the 1960's, I've seen (or heard) him at his best and his worst...this is one of his best. Man in the Long Black Coat will haunt you long after you hear it. Most of the Time is as near perfect a description of how one feels after a breakup-good or bad-as I've ever heard. Great music from a master.
One Of My Favorite Dylan Albums...
"Political World" jumps out as the first cut. The only other cut that might have been radio friendly was "Everything Is Broken". The balance of the album is mostly introspective.

Bob Dylan has the credibility to put out songs analyzing the inner man with both honesty and hope in the lyrics. "Most Of The Time", "What Good Am I?", and "Disease Of Conceit" are a core of "Biblical / Book Of Ecclessiates" styled compositions. "Shooting Star" offers a glint of hope for the future, as he reminisces about the past.
Oh Mercy, I'll take it...
I think Bob recaptured a vibe with this album that he hadnt't shown in a while. I mean there are no stand out, super great songs, but the album as a whole is perfectly balanced and blended. I believe this is due three things: inspired songwriting on Bob's part, Daniel Lanois's great production and the stellar musicians that Bob has playing on this album (e.g. Tony Hall's bass on Most of the Time). I really love this album.