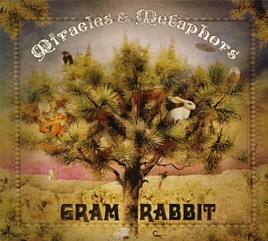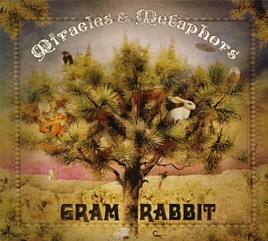 12 Songs, 48 Minutes
Released:

Oct 12, 2010

℗ 2010 Cobraside
Ratings and Reviews
just a matter of time
just a matter of time before Gram Rabbit BLOW UP BIG !!! See them live if you have the chance!! AMAZING!!
You won't believe your (floppy) ears!
Gram Rabbit has always been a band that defies any type of definition. It's impossible to do. Unless, of course, as they have done with their fourth studio album, they define themselves.

Miracles and Metaphors is the perfect distillation of the Gram Rabbit sound. You have the always catchy melodies, dancy beats and electronic sounds mixed with sometimes hard, but always melodic guitars and keyboards. All of this centered around lyrics filled with imagery and meaning. Every song on this album is a tapestry of sound for Gram Rabbit to tell you who they are, why you should listen to them, but lets dance the whole time.

"Candyflip" will get you moving and wanting to howl at the moon while "Wheels in Motion" becomes the anthem against apathy, yearning for more for the world. "Off With Your Head", "Hyena" and "Horses Can't Throw Up" (a true fact, btw!) have more energy and depth than anything you will hear on the radio for years. Such unparalleled music.

This record is just rabid with brilliance, waiting to pounce on you and infect your ears and your mind and I can't recommend it enough.