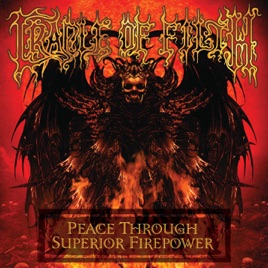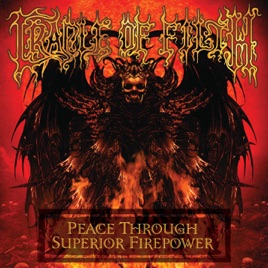 Peace Through Superior Firepower (Live In Paris) - Single
Cradle of Filth
3.6, 12 beoordelingen

$2.97
| | TITEL | | LENGTE |
| --- | --- | --- | --- |
| | Gilded C**t (Live in Paris) | | |
| | Nymphetamine (Live in Paris) | | |
| | Mother of Abominations (Live in Paris) | | |
3 Nummers, 18 minuten
Released:

1 nov. 2005

℗ 2005 The All Blacks B.V.
Beoordelingen en recensies
Uhhhh...
these songs are good and all, and its even better that they are live but Peace Through Superior Firepower is a DVD plus this only has three songs. Why buy this when you can buy the dvd and get all the songs like these ones, Her Ghost In The Fog, From The Cradle To Enslave, The Forest Whispers My Name and all the other ones. Get this if u want because its still good, but i would get the dvd. I have it and it is amazing.
Good
COF is great live, but instead of getting this, just get the dvd. The dvd has the whole concert, some videos, and a documentary which they call a Shockumentary and its pretty hilarious. Most people think that just because COF is a Black Metal band that they are serious all the time. They are all funny as hell including Sarah. If you want to get this then more power to you, but i reccomend just getting the dvd.
Just Incredible
Wow! I love this band and this album Cradle of filth does is amazing! Great songs and great live performeance, also I would recomend the songs: nymphetamine fix, her ghost in the fog and tempation!

Cradle of filth and Slipknot rock!