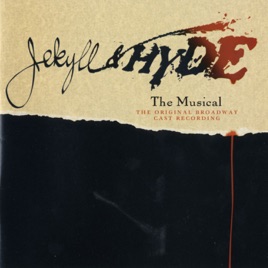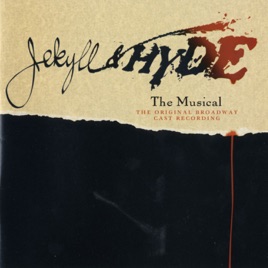 Jekyll & Hyde - The Musical (1997 Original Broadway Cast Recording)
Various Artists
TITLE
TIME

Christiane Noll, Emily Skinner, Frank Wildhorn, John Treacy Egan, Leslie Bricusse, Linda Eder & Robert Cuccioli

Christiane Noll, Emily Skinner, Frank Wildhorn, John Treacy Egan, Leslie Bricusse, Linda Eder & Robert Cuccioli

Christiane Noll, Emily Skinner, Frank Wildhorn, John Treacy Egan, Leslie Bricusse, Linda Eder & Robert Cuccioli

Christiane Noll, Emily Skinner, Frank Wildhorn, John Treacy Egan, Leslie Bricusse, Linda Eder & Robert Cuccioli

Christiane Noll, Emily Skinner, Frank Wildhorn, John Treacy Egan, Leslie Bricusse, Linda Eder & Robert Cuccioli

Christiane Noll, Emily Skinner, Frank Wildhorn, John Treacy Egan, Leslie Bricusse, Linda Eder & Robert Cuccioli

Christiane Noll, Emily Skinner, Frank Wildhorn, John Treacy Egan, Leslie Bricusse, Linda Eder & Robert Cuccioli

Christiane Noll, Emily Skinner, Frank Wildhorn, John Treacy Egan, Leslie Bricusse, Linda Eder & Robert Cuccioli

Christiane Noll, Emily Skinner, Frank Wildhorn, John Treacy Egan, Leslie Bricusse, Linda Eder & Robert Cuccioli

Christiane Noll, Emily Skinner, Frank Wildhorn, John Treacy Egan, Leslie Bricusse, Linda Eder & Robert Cuccioli

Christiane Noll, Emily Skinner, Frank Wildhorn, John Treacy Egan, Leslie Bricusse, Linda Eder & Robert Cuccioli

Christiane Noll, Emily Skinner, Frank Wildhorn, John Treacy Egan, Leslie Bricusse, Linda Eder & Robert Cuccioli

Christiane Noll, Emily Skinner, Frank Wildhorn, John Treacy Egan, Leslie Bricusse, Linda Eder & Robert Cuccioli

Christiane Noll, Emily Skinner, Frank Wildhorn, John Treacy Egan, Leslie Bricusse, Linda Eder & Robert Cuccioli

Christiane Noll, Emily Skinner, Frank Wildhorn, John Treacy Egan, Leslie Bricusse, Linda Eder & Robert Cuccioli

Christiane Noll, Emily Skinner, Frank Wildhorn, John Treacy Egan, Leslie Bricusse, Linda Eder & Robert Cuccioli

Your Work and Nothing More

Christiane Noll, Emily Skinner, Frank Wildhorn, John Treacy Egan, Leslie Bricusse, Linda Eder & Robert Cuccioli

Christiane Noll, Emily Skinner, Frank Wildhorn, John Treacy Egan, Leslie Bricusse, Linda Eder & Robert Cuccioli

Christiane Noll, Emily Skinner, Frank Wildhorn, John Treacy Egan, Leslie Bricusse, Linda Eder & Robert Cuccioli

Christiane Noll, Emily Skinner, Frank Wildhorn, John Treacy Egan, Leslie Bricusse, Linda Eder & Robert Cuccioli

Christiane Noll, Emily Skinner, Frank Wildhorn, John Treacy Egan, Leslie Bricusse, Linda Eder & Robert Cuccioli

Christiane Noll, Emily Skinner, Frank Wildhorn, John Treacy Egan, Leslie Bricusse, Linda Eder & Robert Cuccioli

Christiane Noll, Emily Skinner, Frank Wildhorn, John Treacy Egan, Leslie Bricusse, Linda Eder & Robert Cuccioli

Christiane Noll, Emily Skinner, Frank Wildhorn, John Treacy Egan, Leslie Bricusse, Linda Eder & Robert Cuccioli

Christiane Noll, Emily Skinner, Frank Wildhorn, John Treacy Egan, Leslie Bricusse, Linda Eder & Robert Cuccioli

Christiane Noll, Emily Skinner, Frank Wildhorn, John Treacy Egan, Leslie Bricusse, Linda Eder & Robert Cuccioli

Christiane Noll, Emily Skinner, Frank Wildhorn, John Treacy Egan, Leslie Bricusse, Linda Eder & Robert Cuccioli

Christiane Noll, Emily Skinner, Frank Wildhorn, John Treacy Egan, Leslie Bricusse, Linda Eder & Robert Cuccioli

Christiane Noll, Emily Skinner, Frank Wildhorn, John Treacy Egan, Leslie Bricusse, Linda Eder & Robert Cuccioli

Christiane Noll, Emily Skinner, Frank Wildhorn, John Treacy Egan, Leslie Bricusse, Linda Eder & Robert Cuccioli

Christiane Noll, Emily Skinner, Frank Wildhorn, John Treacy Egan, Leslie Bricusse, Linda Eder & Robert Cuccioli
31 Songs, 1 Hour 13 Minutes
Released:

Jul 15, 1997

℗ 2005 Warner Strategic Marketing
Ratings and Reviews
Bloody Brilliant! The best play since Phantom!
Jekyll and Hyde is deemed a 'Gothing Horror Thriller', and boy oh boy does it deliver. I have two versions of the soundtrack, and have watched the musical on stage twice, and can honestly say it is my favorite musical since 'The Phantom of the Opera'. This version is the one to buy for the authentic stage replication of the musical. It has every number in the play, save for the few exceptions that were changed (some directors replaced "I Need to Know" with "Lost in the Darkness", and "Bring on the Men" with "Good N' Evil"), and a disappointing absence of "Board of Governors", and "The World has Gone Insane". Also, the character of Jekyll delivers his lines in a less exceptional way. "Alive", Edward Hyde's song of his delight in his evil deeds seems much more mellow in this version than in others, and such is also the case in "Confrontations". However, others like "Facade" and it's reprises, "Murde, Murder", and "Dangerous Game" are outright exceptional, and some of my favorites. Highly reccomended to all who enjoy musicals!
Not the best album done of this musical...
This soundtrack was not as good as the soundtrack done in 1994 (Jekyll & Hyde - The Complete Work). The complete work has different versions of songs like "Facade" and "Murder, Murder", which I happened to like better. Both soundtracks are missing songs from the other. The complete work doesn't have "Obsession", "Confrontation", and the four different versions of "Facade", but this version doesn't have "The Girls of the Night", "Board Of Governers", and "Bring on the Men". All these songs are good, so it's a shame that iTunes didn't put the other soundtrack on. Well either way, this musical is one of the best I have heard, and did not deserve a one star rating. I personally bought both albums, and can't wait for someone to do a production of this musical where I live.
Great but could be better if they had left a few songs
This is an amazing show and am amazing soundtrack, the voices are phenominal. The only problem is the fact that a few songs from the Anthony Warlowe concert style show was left out, like "bring on the Men" (but linda eder still sings on this CD a beautiful new song called Good N evil) and before confrontation there was a beautiful little number that was replaced by another new song, Lost IN the Darkness, I prefer Darkness more, but i thought it would be nice to have both the new songs and the old ones just to give it that last star.