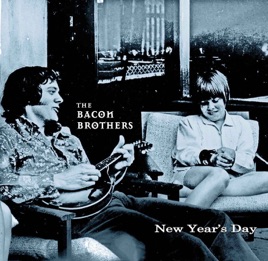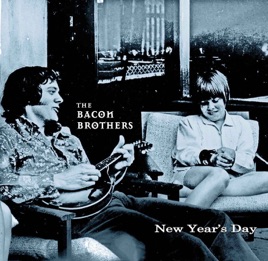 | | TITLE | | TIME |
| --- | --- | --- | --- |
| | | | |
| | Go My Way (The iPod Song) | | |
| | | | |
| | | | |
| | | | |
| | Tell Me What I Have to Do | | |
| | | | |
| | | | |
| | | | |
| | | | |
| | | | |
11 Songs, 45 Minutes
Released:

Nov 11, 2008

℗ 2008 Forosoco Records
Ratings and Reviews
Interesting...
Never heard of these guys before but I like this album. It's as odd a collection of tunes as you might ever find. One moment you can hear the strains of Bob Marley, the next the Moody Blues, then before you know it Van Morrison and U2. The end result is a very clever fusion of all those styles. There's hardly a filler on the album and it's certainly the best release on iTunes this week.
Another Gem from the Bacon Brothers
The Bacon Brothers deliver another gem with New Year's Day! They stay with their signature style of terrific music and clever lyrics but somehow still take it to the next level. Maybe it is because the band members all had a hand in producing the CD. The title track has a driving beat that makes you want to get up and dance, while underneath the words deliver a more somber message about being homesick. It is an interesting contrast that really works. And for people from Philly there is a special tie in to a popular location tradition. Never Got Rich, written by Michael, provides a realistic look at the life of a career musician and makes you really appreciate them for staying with it and brining us these wonderful songs! Just a Bunch of Words has a cool island feel and stirs up memories of all our old favorite songs and the feelings they invoke while reminding us just how powerful a bunch of words can really be. Another stand out track with a big sound and great vibe is Go My Way. I love the feel they captured on this one! Architeuthis is written about an unusual subject, a giant squid, but there are definitely parallels to Kevin's life that come through. Children, a very sweet song written by Kevin, also has a really great vibe and stresses the importance of protecting our most valuable resource. Wild Life is a rockin' song with Frank Vilardi delivering a driving drum beat…it's perfect for a road trip mix. Altogether it is a great CD and I highly recommend it.
They've Surpassed Themselves Again!!
This group just keeps getting better and better! I didn't think it was possible to top their last album, "White Knuckles" but this does! Talk about a versatile band, this collection of new and original songs has many different layers and as you listen to each track, peeling away each layer you will find an array of styles, flavors and textures. Each track offers a new and exciting experience and leaves you anticipating the next. You'll find yourself wanting more after each song. The only disappointment is when you've listened to the last track and there is no more. So go back and listen over and over again!!

The title track "New Year's Day" rocks and is a fan favorite at their concerts. The heavy rock beat makes you move. Other rockin' tunes include "Almost Got Rich, Bitter Man, and Wild Life."

"Go My Way" is an amusing story of someone having a bad day but when a beautiful woman walks by things can turn around. This song has a jazzy sound that will "make your hips sway" right along with the Bros.

"Bunch of Words" has a totally different feel with a reggae beat. The tightness of the band here shows how they have evolved from their first cd and gives you a glimpse into where they are going…nowhere but up!

My personal favorite, "Architeuthis" is about a giant squid and his life in the deep blue sea, sending a message to leave nature be. The combination of sounds from, the flageolet (Irish flute), Charlie's accordion, Paul's strong bass lines, Ira's mandolin, and sweet undertones of Michael's cello, give this tune a rich sound and Celtic feel. As you listen, the tempo of this song makes you feel as if you are floating right beside that squid in "the inky black sea." Every time I hear this I think it would make a great theme song for a Disney film like, "Finding Nemo 2, Search for Inky!"

"Children" reminiscent of the Beatles and the slide guitar lines in "While My Guitar Gently Weeps," this song, in its simplicity brings you back to the grass roots of rock and roll. If you close your eyes you can see the tie dyed shirts and peace signs, while this song delivers the message that you can have your beliefs, faith and religion but please don't use it as a weapon to hurt us or our children. "Tell Me What I Have to Do" has much of the same feel as "Children," with a faster, more upbeat tempo.

I could go on and review each song but I will let you be pleasantly surprised as you listen and enjoy. Kevin and Michael are a talented musician/songwriter duo and they are backed by more amazing talent. Ira Siegal, Paul Guzzone, Frank Vilardi, and Charlie Giordano are all talented musicians in their own right and make up the full and rich sound that is undeniably genius. Each of these musicians has other outlets for their talent and is successful on their own but what they bring to the table in The Bacon Brothers band is very special. Once you listen, you'll be hooked. The Bacon Brothers have surpassed themselves once again.