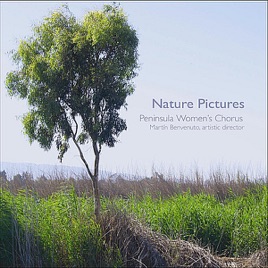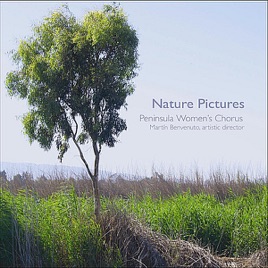 TITLE
TIME

By Stephen Paulus - Peninsula Women's Chorus & Martin Benvenuto

On hilissuvi (It Is Late Summer)

By Veljo Tomis - Peninsula Women's Chorus & Martin Benvenuto

Üle taeva jooksevad pilved (Clouds Are Racing)

By Veljo Tormis - Peninsula Women's Chorus & Martin Benvenuto

Kahvatu valgus (Pale Light)

By Veljo Tormis - Peninsula Women's Chorus & Martin Benvenuto

Valusalt punased lehed (Painfully Red Are the Leaves)

By Veljo Tormis - Peninsula Women's Chorus & Martin Benvenuto

Tuul kõnnumaa kohal (Wind Over the Barrens)

By Veljo Tormis - Peninsula Women's Chorus & Martin Benvenuto

Külm sügisöo (Cold Autumn Night)

By Veljo Tormis - Peninsula Women's Chorus & Martin Benvenuto

By Veljo Tormis - Peninsula Women's Chorus & Martin Benvenuto

By Sir Edward Elgar & Sir Edward Elgar - Peninsula Women's Chorus & Martin Benvenuto

By Robert Schumann & Robert Schumann - Peninsula Women's Chorus & Martin Benvenuto

Talvehommik (Winter Morning)

By Veljo Tormis - Peninsula Women's Chorus & Martin Benvenuto

By Veljo Tormis - Peninsula Women's Chorus & Martin Benvenuto

By Veljo Tormis - Peninsula Women's Chorus & Martin Benvenuto

Virmalised (Northern Lights)

By Veljo Tormis - Peninsula Women's Chorus & Martin Benvenuto

By Karl Korte - Peninsula Women's Chorus & Martin Benvenuto

By R. Murray Schafer - Peninsula Women's Chorus & Martin Benvenuto

Peninsula Women's Chorus & Martin Benvenuto

By Veljo Tormis - Peninsula Women's Chorus & Martin Benvenuto

Lehtivad pungad (Flowering Blossoms)

By Veljo Tormis - Peninsula Women's Chorus & Martin Benvenuto

Õhtune taevas (Evening Sky)

By Veljo Tormis - Peninsula Women's Chorus & Martin Benvenuto

Toominga all (Under the Bird-cherry Tree)

By Veljo Tormis - Peninsula Women's Chorus & Martin Benvenuto

Kollane leek (Yellow Flame)

By Veljo Tormis - Peninsula Women's Chorus & Martin Benvenuto

Hiliskevad (In Late Spring)

By Veljo Tormis - Peninsula Women's Chorus & Martin Benvenuto

By Gabriel Fauré & Gabriel Fauré - Peninsula Women's Chorus & Martin Benvenuto

By Samuel Barber - Peninsula Women's Chorus & Martin Benvenuto

By Veljo Tormis - Peninsula Women's Chorus & Martin Benvenuto

By Veljo Tormis - Peninsula Women's Chorus & Martin Benvenuto

By Veljo Tormis - Peninsula Women's Chorus & Martin Benvenuto

By Kenneth Leslie, arranged by Stuart Calvert, Kenneth Leslie & arranged by Stuart Calvert - Peninsula Women's Chorus & Martin Benvenuto
29 Songs, 54 Minutes
Released:

Dec 1, 2010

℗ 2010 Peninsula Women's Chorus
Ratings and Reviews
Tormis' sketches are beautiful.
Tormis' nature pictures sketches are performed beautifully by Peninsula Women's, and finally it is on one album! I particularly love the Winter set.
Awesome album
The Peninsula Women's Chorus are THE go-to group to hear Tormis. This is a rare opportunity to hear this great evocative music from this highly esteemed Estonian composer. Other stand outs are Chen's Looking at the Sea and Barber's To be Sung on the Water but really, the whole album is gorgeous.
Nature Pictures
an outstanding CD from a very fine chorus.....