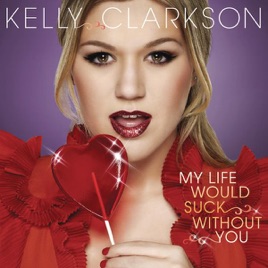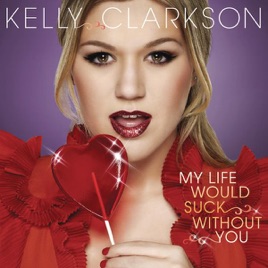 | | TITLE | | TIME |
| --- | --- | --- | --- |
| | My Life Would Suck Without You | | |
1 Song, 3 Minutes
Released:

Jan 16, 2009

℗ 2009 19 Recordings Limited
Ratings and Reviews
Kelly is back!
Kelly Clarkson is an amazing artist and this is yet another awesome song from her. Yes, her style has changed a bit with each album, and so has her look. But she still remains awesome on each one. I can't wait for the new album. Kelly's back! :)
I love this song!
Everybody might say "Kelly is back!", but I honestly think she never left. My December was a fantastic album and I believe this single is a prelude to another great album from Kelly. Warning: this song will get stuck in your head!
This song does NOT S**K!
First i want to start up by saying that Kelly Clarkson NEVER left!
My December is her best album...yet...Maybe her new one will be better...
But i am not worried...i know that Kelly will always sing great no matter what type she sings
as in POP-POP/ROCK-COUNTRY,,,(etc.) because it is her original singing voice that counts!
MLWSWY is a good song to start off as 1st single...
i highly recomend for anyone with any music taste to get it!
this is a type of hit song we havent had in a while...
and yes i agree it does sond like Since U Been Gone... but after you listen to it more you will start noticing the diference!
It has a very catchy chorus! and kelly uses her strong vocal ability during the whole chorus and most of the song...
...and of coarse most of us can relate to the lyrics even if Kelly didn't write them this time!
...it's kinda funny how they put stars in the word s u c k!! lol
Remember to get the new KELLY CLARKSON album "All I Ever Wanted"
March 17 2009