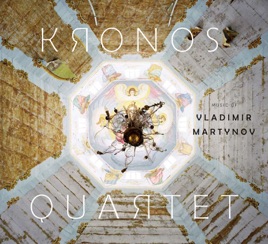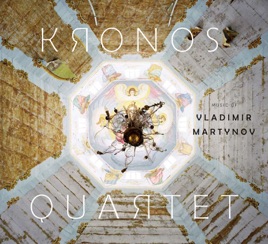 TITLE
TIME

Schubert-Quintet (Unfinished): Movement I

Kronos Quartet

Schubert-Quintet (Unfinished): Movement II

Kronos Quartet
4 Songs, 1 Hour 8 Minutes
Released:

Jan 6, 2012

℗ 2012 Nonesuch Records Inc., a Warner Music Group Company. Made in the U.S.A. All Rights Reserved. Unauthorized duplication is a violation of applicable laws.
Ratings and Reviews
Holy Cow!
No hip-hop- pseudo Islandic ethno music electronic pop schlock. The Kronos throws out a disc of actual quartet music by a real composer! It's like a blast from the past when they were at the height of thier powers, and made music that matters. What better composer to use for a comback than Martynov. He's a composer who should be better know, and not just for his delightful piece "Come In!". All three pieces are more or less memorial pieces of a sort, each with it's own appropriate mood, each with it's own distictive take on minimalism. Philip Glass/BSX take note, this is how it's done! The first piece was a 911 commission one, the second more a memorial for a time gone by-joined by their former cellist of about 20 years. It's a re-imagining of Schuber's cello quintet. The last work is both mezmorizing as it is heartbreakng, a piece written on the death of the composers father. Without giving away too much, this album should already be fast tracked for a grammy this year. Bravo to all involved! It's about time you got your act together. -Bz
JOHN WILLIAMS CLARINET CONCERTO
,
Excellent Album!!
Nonesuch Records released the Kronos Quartet's Music of Vladimir Martynov on January 10, 2012. This album includes three works written or rescored for Kronos by the contemporary Russian composer Vladimir Martynov: The Beatitudes (1998, rescored for Kronos, 2006), Schubert–Quintet (Unfinished) (2009), and Der Abschied (2006). Kronos' artistic director and founder David Harrington says Martynov's music "straddles various points of musical history and time; the music seems to me to reflect and absorb humanity in such a beautiful way."

Martynov, Born in Moscow in 1946, was the son of a well-known musicologist and writer. He studied music from a young age and attended the Conservatory before expanding his musical pursuits beyond the traditional classical canon and into folk songs, early music, avant-garde, rock, and electronic music. In 1979, he entered the Spiritual Academy at the Trinity Lavra of St. Sergius, where he worked on preserving and restoring traditional Russian Orthodox chant. He returned to composition in the 1990s with a new style that combined the traditions of American minimalism with the repetitive chant of Russian Orthodoxy.
Greg Dubinsky writes in the liner notes, Martynov explores the "perspective of the Orthodox Church's hermetic, ascetic tradition of insight and ecstasy achieved through ceaseless prayer ... In this uninterrupted circular motion, time lacks beginning or end. Through the insistent repetition of a single formula, the mind blocks out the external world ... His goal is to create a music that maintains this pose of enraptured contemplation for as long as possible." Kronos Quartet has commissioned five works from Martynov, three of which are on this new album.
Outstanding
Well worth my money.