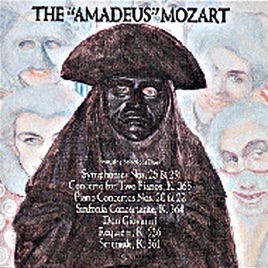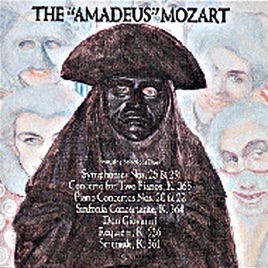 TITLE
TIME

Symphony No. 25 in G Minor, K. 183: I. Allegro con brio

Columbia Symphony Orchestra & Bruno Walter

Serenade No. 10 in B-Flat Major, K. 361: III. Adagio

Marlboro Festival Winds, Marcel Moyse, Jack Kulowitch, Frank Cohen, Robert Routch, Meir Rimon, E. Scott Brubaker, John Serkin, Richard Stoltzman, David Singer, Rudolf Vbrsky, Randall Wolfgang, Alexander Heller & Christopher Millard

Symphony No. 29 in A Major, K. 201: I. Allegro moderato

Vienna Chamber Orchestra & Philippe Entremont

Concerto for Two Pianos in E-Flat Major, K. 365: III. Rondeaux, Allegro

The Philadelphia Orchestra, Eugene Ormandy, Robert Casadesus & Gaby Casadesus

Sinfonia Concertante for Violin, Viola and Orchestra in E-Flat Major, K. 364: I. Allegro maestoso

Cleveland Orchestra, George Szell, Rafael Druian & Abraham Skernick

Concerto No. 22 for Piano and Orchestra in E-Flat Major, K. 482: III. Allegro

Columbia Symphony Orchestra, George Szell & Robert Casadesus

Scene 15: A. "Don Giovanni, a cenar teco", B. "Da qual tremore insolito..." from Don GiovanniI, K. 527

Lorin Maazel, Orchestra of The Paris Opera, Ruggero Raimondi, John Macurdy, José Van Dam, Chorus of the Paris National Opera & Janine Reiss

Jean-Claude Malgoire, La Grande Écurie et la Chambre du Roy, Martin Hill, Colette Alliot-Lugaz, Dominique Visse, Odile Bailleux, Choeur Regional Nord-Pas-De-Calais & Gregory Reinhart

Concerto No. 20 for Piano and Orchestra in D Minor, K. 466: II. Romance

Stephen Simon, The Vienna Festival Orchestra & Lili Kraus
12 Songs, 1 Hour 13 Minutes
Released:

Dec 18, 1990

℗ Originally released 1955, 1960, 1961, 1964, 1965 Sony Music Entertainment Inc., (P) 1977, 1979, 1986 Sony Music Entertainment Inc., (P) 1975 Marlboro Recording Society
Ratings and Reviews
This movie highlights the very best
My only bone to pick with this album is the missing aria from the magic flute . One of my very favorite bits & a very impressive performance of it . Too bad.
Where is the original soundtrack?
The original soundtrack had more music and all was done by St. Martin In the Fields... Is it that hard to get??
Loved Amadeus
And I love this download great selections from the movie